from Aesop to Updike coming to the Gorey House


Haunting. Ethereal. Beautiful. Plain. Ravishing. Paperback collector Lance Casebeer reported "They were hailed as "modern" and "arty". 'Print' magazine praised [Gorey's work at Doubleday]: "a feeling of unity...a quality of their own".

In Dick Cavett's 1977 television interview with Edward Gorey, talking about horror stories, Gorey sighs: "People are always coming to me to illustrate things that really do not need to be illustrated. I mean, that I really think would be better off not illustrated, because I think the illustrating of horror stories is one of the nightmares of my existence."

In David Streitfield's 'The Gorey Details' interview: He [Gorey] gazed at a copy of What Maisie Knew, Gorey: "...my Henry Jameses were thought to be terribly good, probably because hate is as powerful as love, and I hate Henry James more than anybody."

Dick Cavett, also on Henry James, adds: "... I have the same mixed feelings about him. Someone said that following through one of his sentences is like watching an elephant try to pick up a pea." Gorey: "Well, that's true."

But that's not all...

Talking to Steven Heller in 'Edward Gorey's Cover Story' in 1999, Heller asks why he chose to hand-letter: Gorey: "I was stuck with hand-lettering, which I did very poorly, I always felt, but everybody seemed to like it. So I got stuck with it the rest of my life."

Fortunately for us, he did. But another aspect of Gorey's design which set his work apart - color. From the same interview, Heller continues:

"Since your books are black and white, I am really taken by your color sense for these book covers. They are always muted, very earthy and distinctly subtle." Gorey: "Well, it was partly because you had to keep to three flat colors, plus black." ( ed: Gorey refers to cyan, yellow, magenta - the ink-based equivalents of red, green and blue in the electronic color world. The mixture of these can produce nearly any color.) "... I guess I could have picked bright reds or blues, but I've never been much for that. My palette seems to be sort of lavender, lemon-yellow, olive-green, and then a whole series of absolutely no colors at all."

Heller brings up Gorey's cover for Kafka's Amerika. Gorey: "Oh, yes. That has little pink clouds and not much else. I'm also rather fond of the 'Arabica Deserta' which is in three different shades of blah grey-olive."


Edward Gorey's hand lettering and use of color is both subtly unique and intensely satisfying. It's his style, his palette, and his alone. With that in mind, we look forward to our next visit to the Edward Gorey House this Spring, and prepare to be entertained by -- blah grey-olive. Sublime.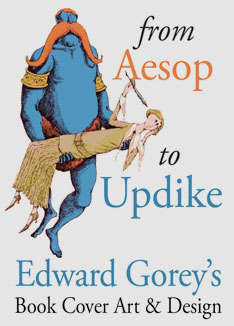 ...and while you're here,


do you remember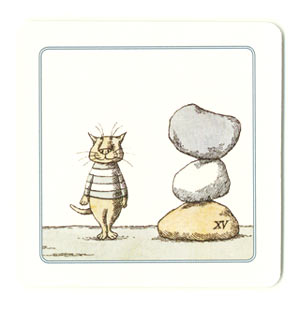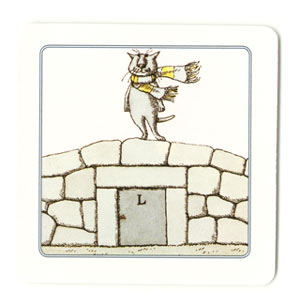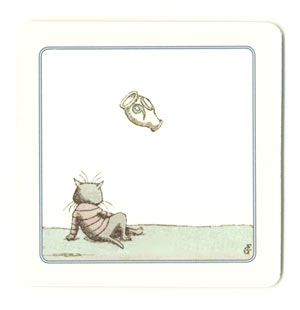 &nbsp