about Goreyography...


Goreyography is an infoporium, a graphical galleria celebrating the Art & Life of American author and artist Edward St. John Gorey [1925-2000].

Goreyography started in 1992 as a tiny Edward Gorey book and art exhibit space in Zeno's Used Books, an out-of-print bookstore near San Francisco State University in California. Like so many other small, independant booksellers, Zeno's moved to the internet, closing its glass-paned doors in 1993, and Zenosbooks.com opened a digital storefront. Goreyography soon followed suit.

Goreyography continued to exhibit portions of its Edward Gorey collection at public libraries and book fairs in the San Francisco Bay Area until 2004, then relocated to the Washington, DC area. In 2015, Goreyography's extensive collection was gifted to the Library of Congress, where it remains intact, accessible to the public. A webcast presenting the collection was recorded in February, 2016. Located in the Rare Book and Special Collections room in the Thomas Jefferson Building across the street from the U.S. Capitol and Supreme Court buildings, appointments can be made to view any Edward Gorey items from the Library's collections such as the hand-colored edition of the Dogear Wryde Postcards: Interpretive Series (1979) or the nine part Elefantomas (1986) hand-pulled monoprint series, or even watch the Tonight Show Gorey interview with Johnny Carson.

Finally, you may own or have seen the book Goreyography by Henry Toledano, a Gorey checklist and bibliography published in 1996 by Word Play Press. We are separate entities, and have no business relationship. The sharing of names is a coincidence, albeit a pleasant one. Goreyography works closely with both the Edward Gorey House and The Edward Gorey Charitable Trust.

Those contributing artists, writers and constructive critics who make up this little corner of la ville Gorey are treasured beyond words. We thank you all, Gorey afficionadoes from nearly every continent and large land mass on Earth (except maybe Iceland, for the moment). Even if Goreyography were to disappear tomorrow, we are pleased to know those who have reached out to share their deep appreciation for Edward Gorey and his work. He is a true American Master of the literary arts.

We hope your time spent here was interesting and useful. Please email your ideas or suggestions to write2@goreyography.com.


With sincere best wishes,


Glen Emil,

Principal and Co-founder,
Goreyography+WZP


A short biography about Edward Gorey, written by Andreas Brown [1933-2020], friend and promoter of the author and former co-trustee of The Edward Gorey Charitable Trust. For additional information, stop by About Edward Gorey in our Goreyography Reviews Section.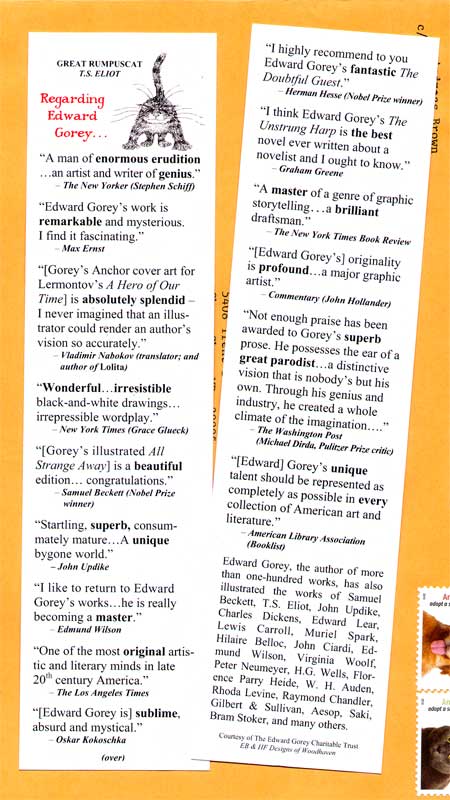 Bookmark issued by the EG Charitable Trust in 2010