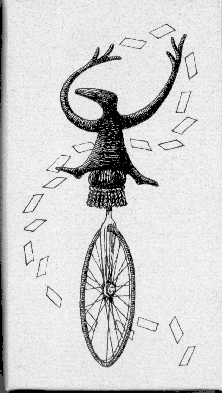 THE FANTOD PACK; INTERPRETED BY MADAME GROEDA WEYRD

First authorized edition: [New York:] Gotham Book Mart [1995] 20 laminated printed cards and booklet printed in gray wrappers with black pictorial stamping. Issued in a gray box with black pictorial stamping. Limited to 750 numbered and 26 lettered copies signed by Edward Gorey. A first edition statement appears as part of the colophon.

Note: "Groeda Weyrd" is an anagram for Edward Gorey.


Unauthorized [pirated] edition:,: [No place] Owl Press [circa 1969]. 20 cards, neon green with maroon stamping on face; backs of cards are white with black stamping. Wrapped in a yellow sheet, approximately 11" X 8", of instructions; blue paper band stamped in black taped to yellow sheet. No statement of first edition.

Note: This is a piracy, produced somewhere in Southern California without Gorey's permission or knowledge, reprinting in a different format "The Awful Vista of the Year: The Fantod Pack" by Edward Gorey, which originally appeared in Esquire in December, 1966.