envelope illustration with title names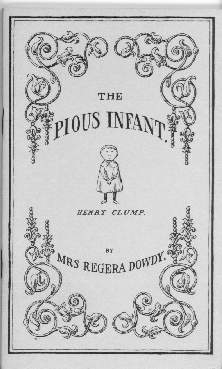 THE PIOUS INFANT
by Mrs. Regera Dowdy

First edition: New York: The Fantod Press, 1966. Lavender wrappers with black pictorial stamping. Limited to 500 copies. No statement of first edition.

Note: "Regera Dowdy" is an anagram for "Edward Gorey." Note: This book was issued as part of a three-volume set in a yellow envelope, stamped in black, with the overall title THREE BOOKS FROM THE FANTOD PRESS [I].