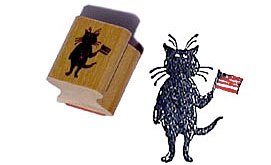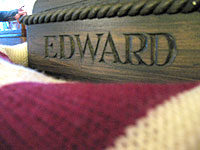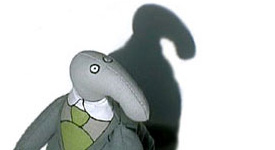 News & Events
Read a good review of the Edward Gorey House exhibition Artifacts from the Archives from Wicked Local Cape Cod.

Elegant Enigmas, the Art of Edward Gorey, tours Japan. Developed by the Brandywine Museum in 2009, the exhibition has confirmed stops at Itami City Museum of Art (Apr 2 - May 15), Fukushima Prefectoral Museum of Art (July 16 - Aug 28) and Shimonoseki City Art Museum (Sept 8 - Oct 23). . Also visit Shimomoseki on Facebook for a slightly different perspective.

Take a look at MOE's Edward Gorey page for the latest announcements, in Japanese only.

UPDATE: Three more museums have been added to the tour in Japan. Stay tuned for announcements of additional venues.

Rare first edition books from Toshinobu Hamanaka's collection will augment Edward Gorey's long-anticipated appearance. This is the first international tour for the acclaimed show.



Swann Galleries auctions reflects strong interest in original Gorey artwork.

MÉLANGE FUNESTE re-appears, from Pomegranate.

Christopher Seufert's Edward Gorey documentary is set for early 2017. Visit the Edward Gorey film project's Facebook page for details.



But I Thought It Was a First Edition
To help separate the wheat from the reprints, peruse the illustrated bibliography of Gorey's primary works. View alphabetically or chronologically.






Desperately Seeking Gorey
Look for the Serious Collectors link in our illustrated bibliography pages. Makes finding scarcities a tad too easy.

One-click searching for eBay, Abebooks, and Amazon!


Give the Gift of Gorey
Who sells all those bat tees, posters, lunch boxes, sterling silver Doubtful Guest pins, calendars, and of course - books? Find out at the Edward Gorey Marketplace. Open 24/7.


Goreyography Reviews
Recent books:
..His Cover Art & Design
..The Tunnel Calamity
..Betrayed Confidence Revisited

Recent events:
..EGH 'Aesop to Updike' exhibit coming...
..EGH Envelope exhibit in 2012
..Elegant Enigmas tours America
..Edward Gorey House in 2010

Guest reviews & interviews:
..Peter Neumeyer at the Cartoon Art Museum
..John Carollo on 'Musings' exhibit
..Kevin McDermott and 'Elephant House'


The Backroom:
Original Gorey Art!
It's where the special goods are kept. Now, booksellers are bringing original Gorey art out to the electronic frontier. Come in, and take a look.


Those Paperback Covers!
Since 1953, Gorey designed and illustrated dozens of mass market paperback covers. See over 60 covers on exhibit.



The Play's the Thing
Seen by few, Gorey's theatrical productions live on in the art he used to promote them. Works commissioned for other theatrical productions on view as well.