"Ted (Edward) Gorey is perfect for children."
-- Maurice Sendak, Children's Literature Assoc Quarterly, Vol. 27, No.1, Spring 2002 **


NO ONE ENJOYED creating intriguing Gorey lists more than Andreas Brown (1933-2020). And nothing made our mouths water like his seasonal Gotham Book Mart Gorey catalogs of years past, and they are sorely missed. This time, Brown assembled a different type of list: Edward Gorey's Books for Children, as a supplement to the 2008 exhibition at the Edward Gorey House. Today, his list can be seen in another light: to help us consider that Gorey can be great for children, even if some of his books may seem "a little sophisticated" for young minds.

Many of Brown's choices are obvious, like Ciardi and Neumeyer. But happily, The Gashlycrumb Tinies makes the list. Still, I can see why some feel uncertain about handing this abecedarium over to an 8-year old. The adult imagines the young mind only getting the 'wrong' message, though it's not easy to pinpoint exactly what that might be. Perhaps the sensitive subject of death - a gifting adult won't have comforting explanations. To that, I believe that children, if left to use their own imagination, are more perceptive than we give them credit: they see the intended humor - they will get it. Conversely, kids can sense trepidation, especially from a parent. A child knows when they are being steered, and if fear empowers it, why does it? A harder question to answer, to be sure. In times like this, a child's cold, analytical mind will inevitably surface with "What's the big deal?". Indeed, we need to ask ourselves - what is the big deal?


Edward Gorey's Books for Children; or,
Books Written by Others and Illustrated by Edward Gorey
Compiled by Andreas Brown

Books by Gorey
The Bug Book, 1969
Categor y, 1974
The Doubtful Guest, 1957
The Dwindling Party (a pop-up book), 1982
E.D.Ward; a Mercurial Bear, 1983
The Eclectic Abecedarium, 1983
The Epiplectic Bicycle, 1969
The Fantod Pack, 1995
Figbash Acrobate, 1994
The Floating Elephant / The Dancing Rock, 1993
The Gashlycrumb Tinies, 1963
The Haunted Tea-Cozy, 1998
The Headless Bust, 1999
The Lavender Leotard, 1973
The Lost Lions, 1973
The Nursery Frieze, 1964
The Osbick Bird, 1970
Q.R.V., 1989
The Remembered Visit, 1965
The Sopping Thursday, 1970
The Utter Zoo, 1967
The Wuggly Ump, 1963


Books Illustrated by Gorey
The Adventures of Gremlin, 1966. DuPre Jones
The Adventures of Treehorn, 1983. Florence Parry Heide
Alvin Steadfast on Vernacular Island, 1965. Frank Jacobs
At the Top of My Voice, 1970. Felice Holman
Bleak House, 1953. Charles Dickens
Brer Rabbit and His Tricks, 1967. Ennis Rees
Cautionary Tales for Children, 2002. Hilaire Belloc
The Christmas Bower, 1967. Polly Redford
Cobweb Castle, 1968. Jan Wahl
Donald and The..., 1969. Peter Neumeyer
Donald Has a Difficulty, 1970. Peter Neumeyer
The Dong with the Luminous Nose, 1969. Edward Lear
Dracula: A Toy Theater, 1979. [Bram Stoker] Based on Gorey's
1977 Broadway play stage set designs
Fletcher & Zenobia, 1967. Victoria Chess (Gorey co-authored,
Chess illustrates)
Fletcher & Zenobia Save the Circus, 1971. Victoria Chess (Gorey
co-authored, Chess illustrates)
Gorey Cats Paper Dolls, 1982. Malcolm Whyte
Gorey Games, 1979. Larry Evans
The Haunted Looking Glass, 1959. (Gorey was editor)
Hauntings: Tales of the Supernatural, 1968. Henry Mazzeo
He Was There From the Day We Moved In, 1968. Rhoda Levine
The House with a Clock in Its Walls, 1973. John Bellairs
Jack the Giant Killer, 1973. [Anonymous] A small accordion foldout
The Jumblies, 1968. Edward Lear
The King Who Saved Himself from Being Saved, 1965. John Ciardi
Limericks, 1973. Betty Jane Wagner (Gorey was editor)
Lions and Lobsters and Foxes and Frogs, 1971. Ennis Rees
The Man Who Sang the Sillies, 1961. John Ciardi
Men and Gods, 1959. Rex Warner (1960 reissue with new Gorey
illustrations)
Merry, Rose and Christmas-Tree June, 1969. Doris Orgel
The Monster Den, 1966. John Ciardi
Monster Festival, 1965. Eric Protter [ed]
More of Brer Rabbit's Tricks, 1968. Ennis Rees
Miss Clawfooty and the Demon, 1971. David J.Townsend
Old Possum's Book of Practical Cats, 1982. T.S. Eliot
Penny Candy, 1970. Edward Fenton
Pippin's Journal, 1962. Rohan O'Grady
The Rats of Rutland Grange, 1974. Edmund Wilson
Red Riding Hood, 1972. Beatrice de Regniers
Rumpelstiltskin, 1973. Edith H. Tarcov
The Shrinking of Treehorn, 1971. Florence Parry Heide
Someone Could Win a Polar Bear, 1970. John Ciardi
Story for Sara, 1971. Alphonse Allais
Three Ladies Beside the Sea, 1963. Rhoda Levine
The Treehorn Trilogy, 2006. Florence Parry Heide (The complete
Treehorn series in one volume)
Treehorn's Treasure, 1981. Florence Parry Heide
Treehorn's Wish, 1984. Florence Parry Heide
The Twelve Terrors of Christmas, 1973. John Updike
The Very Fine Clock, 1968. Muriel Spark
War of the Worlds, 1960. H.G. Wells
Why We Have Day and Night, 1970. Peter Neumeyer
You Know Who, 1964. John Ciardi
You Read to Me, I'll Read to You, 1962. John Ciardi


Indeed, growing up Gorey can be a pleasure!



. . .


Some Perspective...

A GOREY COLLECTOR often walks the fine line between being seen as artistically sophisticated and literarily -- eclectic, with latent American Goth tendencies. Though many of Gorey's fans certainly fit either or both of these descriptions, the boundaries are by no means well defined. Art, literature, cartoon, social commentary? Maybe the roots of this uncertainty comes from the bookselling community itself. Walk into any bookstore, new or used or antiquarian, and Gorey's books can be found in the a) humor, b) art, or c) children's books section. Occasionally said seller will tiptoe around classification and place the small first editions behind glass cases in the rare or collectable books shelf near the cash register. Serendipity Books in Berkeley used to put their entire Gorey selection in a small cardboard box in an unmarked, closed cabinet in the middle of the store. So how IS the collector of Edward Gorey books and artwork to assume a more prominent standing in bookselling society?

By keeping good company, of course. Through the years, Gorey has amassed a fiercely dedicated following in both literary and artistic circles, here and around the world. Even the mass media was tasked to pull Gorey into the spotlight after his successes on Broadway in the late 70's with 'Dracula'. It was not a match made in heaven. In one particular 'media event', an uneasy Dick Cavett plodded through a truly awkward interview in 1977, illustrating and encapsulating forever the broad river that divides Gorey and the mass media machinery. To Cavett's credit, he seemed to recognize the ambiguous nature of Gorey's appeal. So he tried to pigeonhole and stereotype, to which Gorey remained evasive. Still, authentic appreciation accumulated over the years, and was dutifully recorded by Andreas Brown at the Gotham Book Mart & Gallery. These quotes were eventually spotted between book listings in GBM's occasional 'Gorey for Sale' flyers.

With Mr Brown's assistance, we've reintroduced some of the more notable quotes and accolades below. I doubt, however, that it'll solve the bookseller's quandary: 'Where to put the Gorey books!?'


Regarding Edward Gorey...
Andreas Brown, editor

Edward Gorey published over one hundred of his own works. He also illustrated the works of Samuel Beckett, T.S. Eliot, John Updike, Charles Dickens, Edward Lear, Lewis Carroll, Hilaire Belloc, John Ciardi, Muriel Spark, Edmund Wilson, Peter Newmeyer, H.G. Wells, Florence Parry Heide, Bram Stoker, and many others.

"A man of enormous erudition...an artist and writer of genius."


-- The New Yorker

"One of the most original artistic and literary minds in late 20th century America."


-- Los Angeles Times

"A master of a genre of graphic storytelling...a brilliant draftsman."


-- The New York Times Book Review

"An extraordinary imagination."


-- Publishers Weekly

"One of the great American artists of the 20th century."


-- Book Page

"Dark masterpieces of surreal morality...beautifully depicted."


-- Vanity Fair

"[Edward Gorey] is sublime, absurd and mystical."


-- Oskar Kokoschka

"A major graphic artist...his originality is profound."


-- Commentary (John Hollander)

"A great American illustrator...fascinating."


-- London Observer

"An American original...one of this century's foremost eccentric geniuses."


-- Print

"Edward Gorey's work is remarkable and mysterious. I find it fascinating."


-- Max Ernst

"Incredibly sophisticated...stylish and inventive."


-- The New York Observer

"Unforgettable, magic, insightful and mysterious...as full of wisdom as of delight."


-- The Baltimore Sun

"One of the most literate and sophisticated graphic masters of our time."


-- U.C.L.A. Performing Arts

"I recently saw a fantastic picture book, 'The Doubtful Guest', by Edward Gorey...In case you don't know it already, I recommend it highly."


-- Herman Hesse (Nobel Prize winner, writing to Diogenes Verlag in 1960

"Not enough praise had been awarded to Gorey's superb prose. He possesses the ear of a great parodist...a distinctive vision that is nobody's but his own. Through his genius and his industry, he created a whole climate of the imagination..."


-- Washington Post (Michael Dirda, Pulitzer Prize literary critic)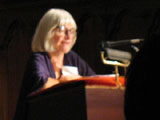 Pulitzer-prize winner Alison Lurie (1926-2020) recounts a very special friendship at the EGH 2008 Auction & GoreyFest

Of Curious, Beastly & Doubtful Days:
Alison Lurie on Edward 'Ted' Gorey

OCT 4 2008
YARMOUTH PORT, MASS

"I'm going to talk about Ted Gorey as I knew him. I didn't know him as 'Edward', to me he was always 'Ted'. We met in Cambridge, Massachusetts in 1949. I was newly married, and both Ted and my husband were back from the Army and finishing up at Harvard. I had already graduated from Radcliffe and was working in the Boston Public Library, in the Rare Books Department.

"We met in the Mandrake Bookshop on Mount Auburn Street, which some of you may have been lucky enough to have known. It was a wonderful little bookshop, the kind you can't find in Cambridge any longer because of the high rents. It served coffee, there was a comfortable old sofa and chairs. You could come in there and sit and read without anyone saying 'Can I help you?', which of course means, 'You'd better buy a book soon, or get out.' The Mandrake was a kind of social center, but was also a commercial success, because in those days books were not all that expensive.

"Ted Gorey often hung out there. He was friends with the owner Helen McCormick, who was a graduate student's wife and only a little older than we were. I was twenty-three and Ted was twenty-five when we met. He looked very different then; he had no beard or moustache, he wore t-shirts and black turtleneck sweaters and looked like a very tall thin computer student.

"We began talking and became friends because we liked the same books. Soon we began to go to museums and films together, sometimes with my husband Jonathan Bishop, but often without him because Jonathan was working very hard. He wanted to become a professor of English, and he did become a professor, and this meant that he had to do well in school and didn't have much free time. We were living in a very small apartment on Harvard Street and he was working there, studying and writing, and if friends like Ted came over our conversations would get in the way. So Ted and I would meet at the bookshop, or at local coffee shops.

"When the warm weather came we began going for walks in Cambridge, by the river, and then one day we went to the old graveyard near Harvard Square and saw the tombstones, which are really strange and wonderful. We wanted to save them somehow, and photographs didn't really work, so we began making tombstone rubbings. You all know what they looked like if you've seen the titles for the Masterpiece Theater Mystery! series, which are in many ways based upon these rubbings. It's easy to do: you take a big piece of shelf paper and stick it to the tombstone with tape, and rub over it with a wax crayon of any color you like. If you want a more brilliant effect, when you get home you go over the paper with black or colored ink, and you get a wonderful result.. In those days there were no ballpoint or felt-tip pens and you could buy many different colors of ink almost anywhere.

"I don't know if any of Ted's original tombstone rubbings have survived, mine are all gone, and I regret this very much. But in many of his books, as well as his titles for Masterpiece Theatre, you can see their influence, the influence of both the 19th-century tombstones with the urns and weeping willows, and the earlier ones with winged cherubs and angels and skulls and crossbones, and strange fruits and flowers and circular patterns that looked like Celtic crosses or magical symbols. Ted preferred the older tombstones with strange inscriptions and scary verses, one that we often came across read:

Behold and think as you pass by,
As you are now, so once was I.
As I am now, so you will be.
Prepare to die and follow me.

"It was on one of these trips that I realized for the first time, that I was not going to live forever. Of course I knew this theoretically, but I hadn't taken it personally. We were in a beautiful graveyard in Concord, Mass., and I said to Ted 'If I die, I want to be buried somewhere like this.' And he said, 'What do you mean, if you die?'

"In 1950 we both became involved in the Poets' Theatre of Cambridge. Ted designed the posters and programs, I worked on costumes and makeup, eventually we both wrote short plays for performance, his was called Amabel, or The Partition of Poland. I've written about all this in a memoir of V.R. Lang, the poet who was one of the founders of the Poets' Theatre, so I won't say much about it, except that Ted helped to create its distinctive style and was one of the sanest and calmest people in the whole organization.

"After Ted finished Harvard he got a job working for a book publisher in Boston, in Copley Square. I was working there too, at the Boston Public Library, and we used to have lunch together in a cheap cafeteria on Marlborough Street. Neither of us liked our jobs very much, but they had compensations; we got first look at a lot of books and we could meet regularly. I would say that from 1949 to 1952, when Ted moved to NY, we saw more of each other than of anyone else. We were best friends.

"Ted then was much like he was always - immensely intelligent, perceptive, amusing, inventive, and skeptical, though he was completely unknown. He had crushes on people sometimes, but nothing much ever came of them, and I think he preferred it that way. He saw through anyone who was phony, or pretentious, or out for personal gain, very fast. As he said very early in our friendship, in September 1951, 'I pity any opportunist who thinks I'm an opportunity.' He was already eccentric and individual when I first knew him as a very young man. He was strikingly tall and strikingly thin, soon as he grew a mustache and began wearing black turtleneck sweaters and white sneakers people on the street turned around to look at him.

"In 1953 Ted moved to New York. At first he didn't care much for the city. Here's an excerpt from a letter he wrote me in September 1953 [note: all his letters to me (43 of them) are in the Cornell manuscript collection now]:

'All the brilliant thoughts and such which I had about New York seem to have vanished or shriveled by this time, and its just another place, with better bookstores, and more movies to go to... Though when the weather is really good, it does seem to have a clarity and glitter I never saw anywhere else. I feel like a captive balloon, motionless between sky and earth. I want birds to bring me messages.'

"Of course over the following years Ted gradually grew to love the city, especially after he discovered the New York City Ballet. He began to collect cats, he published books and drew book covers and became a famous artist and write, and a famous New York character. Eventually he was often recognized there, partly because he was still so tall and thin and always wore sneakers and a lot of strange rings, and in Winter he would wear a huge fur coat. He grew a beard too, and sometimes the coat matched the beard. People stopped him on the street or went up to him at the ballet or in restaurants to say how much they admired his work.

"I've been asked to say something about the three books Ted wrote that I have some connection to. The first one to be published, in 1957, was The Doubtful Guest, which was dedicated to me under my current married name, Alison Bishop. It was inspired, more or less, by a remark I made to Ted when my first son was less than two years old. I said that having a young child around all the time was like having a houseguest who never said anything and never left. This, of course, is what happens in the story. The 'Doubtful Guest' appears out of nowhere. He is always there, he just sits around, and he always wears sneakers, like a child or like Ted himself. He is a child, of course, and many mothers have recognized this since the book was published. My own 'doubtful guest', the original one, left home at eighteen, and is now over fifty. He still comes to visit, but he always has plenty to say, and often I think he leaves too soon, so there is hope for any of you who have this kind of guest in your own home right now. In a way I still have him, because one of my daughters-in-law who was a Gorey fan made me a stuffed Doubtful Guest, which I still have.

"The next book of Ted that I had some connection to was The Curious Sofa, which was published in 1961 under the pseudonym of Ogdred Weary, which of course is an anagram of 'Edward Gorey'. When I worked in the Rare Book Room of the Boston Public Library there was a locked stack full of old-fashioned erotica, and if you worked there or a friend worked there it was possible to look at these books. I think that some of them were probably one source of The Curious Sofa, which isn't pornographic at all, but rather makes fun of this sort of book. At that time there was a lot of censorship and complaint in the press about erotic or suggestive fiction, which Ted thought of as rather silly and hysterical. Some people thought that the heroine of The Curious Sofa was based on me, because she is called Alice and rather resembles me as I was then. Even now, I've still got the same haircut. Anyhow a lot of our friends assumed at the time that I was Alice, and I had to work hard to convince some of them that I hadn't had any of the experiences that Alice seems to have in the book.

"Finally there was The Beastly Baby, which was actually written in 1953 when my first child was a few months old. I complained about him to Ted, I wrote him a note that said 'I can't go to the movies because I have to stay home to take care of the beastly baby.' Though the book was finished in September 1953, it wasn't published for nearly 10 years. Here's a quote from a letter Ted wrote me at the time explaining why:

'Thank you so much for the picture of your infant. As it happened, as it always seems to, which is sometimes boring and sometimes not, I got into a kind of flap over the weekend, and wrote and illustrated a book which I am dedicating to aforementioned infant. It is apparently very odd indeed...when I took it to show Cap [EG's editor], he behaved most nervously, and kept looking at me as if he had never seen me before; he even dragged out a bottle and gave me a drink, this being eleven o'clock in the morning. He is brooding over it at present, but intimated that in ten years perhaps the public would be ready for it. The title of it is 'The Beastly Baby' and that is really all I can tell you about it except that it is a sort of depraved cautionary tale with no moral at all.' [from letter dated September 10, 1953].

"The book eventually came out in 1962, and when I had friends whose babies were behaving especially badly, I would sometimes give them a copy; I think the message was that things could be a lot worse than they were.

"I want to end by saying that some people have claimed that Edward Gorey's books are too frightening for children, that kids shouldn't be allowed to see them, and people even say that Ted hated children: None of this is true. He was very nice to all my children, and they liked him. I even have a wonderful photograph of Ted, him playing with my youngest son. After The Beastly Baby was finally published I wrote him a postcard, thanking him for sending me a copy, and it reads:

'The boys love it. Yesterday they were running around, pointing their toy guns at each other saying 'I'm the beastly baby and I'm shooting up the bric-a-brac. So I want you to know that there is one family in the world in which your books are just as much a beloved part of childhood as Beatrix Potter.'

"Finally I should tell you that in spite of what some critics think of as the possible sinister or anxiety-producing effect of Edward Gorey's books on children, all my sons turned out just fine."

-- A.L.


. . .


PRESENTED ON SATURDAY EVENING, OCTOBER 4 2008, BY ALISON LURIE AT THE EDWARD GOREY HOUSE'S 7TH ANNUAL AUCTION & GOREYFEST.

TRANSCRIBED BY GLEN EMIL AND EDITED BY MS. LURIE, AND IS PRINTED HERE BY HER KIND PERMISSION. IT IS NOT TO BE REPRODUCED WITHOUT HER PERMISSION.

©ALISON LURIE 2008

PHOTOGRAPH OF ALISON LURIE ©2008 GOREYOGRAPHY