Edward Gorey House
2008 Season


It's Sunday, and It's Still Yarmouth Port!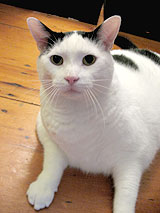 Ombledroom inspects all visitors



Read about the 2008 Auction & GoreyFest

EGH Season ends December 21, 2008





Images in the middle, from top to bottom:


Looking toward the front room

Final version of 'Categor y' cover art

Animation cel from 'Mystery!' opening sequence

Edward Gorey having a drink family and friends. The frame is from the 'Mystery!' set, donated by WGBH

from 'SKETCHES in Two Volumes, with Supplement' by Ted Gorey, 1937

character sketches from 'Why We Have Day & Night'

Rick Jones, Director & Curator



For more information call the Edward Gorey House

(508) 362-3909



Images by Glen Emil.



17 October 2008 Special to Goreyography


HAVING JUST toured the Edward Gorey House, I want to tell you everything, and not spoil anything. Not that I really could. The nature of Gorey's work doesn't allow it to be just given away like a plot. I think his work is more experiential. Even though it lives on paper like normal books, Edward Gorey's art and letters are anything but normal. They seem to open a little theater in my mind, just above the eyes, below the hairline. It occurred to me after I went to the local bookstore and found, sitting by itself, a brand new Eclectic Abecedarium, as published by Pomegranate. No other titles to keep it company, no Amphigoreys or Insect Gods to keep it from getting lost or overlooked, but just little old Eclectic Abecedarium. Like its readers, the little book was keeping to itself, enjoying the corner of the shelf, hoping to go unnoticed. But there's something about a little book that tries hard not to be noticed - it gets noticed. This version of the even tinier 1 5/16-inch original stood out for all its diminutive charm.

In addition, this little reprint stood out because its familiar cover illustration was colored! I wasn't prepared for this. And it stirred a youthful voice in me. 'Is this cute or what!' I found myself thinking, and picked it from the shelf. The book was sealed in plastic, but I didn't mind, I bought it anyway. It intrigued me into making the purchase, just as a good book cover should. And though it's 'just a reprint', it's a lot of fun. I'm glad I got it.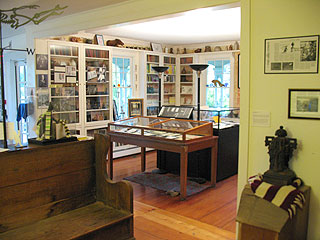 After appreciating the colorful handiwork, I remembered how Mr Motoyuki Shibata, in his translation notes at the end of the Japanese release of Eclectic Abecedarium, encourages the reader to experiment, and to try and adapt their own verses and even color in the tiny illustrations for fun. How right he was! I want to pick up a non-colored version and start on my own interpretation right away.



. . .

Rick Jones graciously allowed me to peruse the Edward Gorey House's 2008 exhibits while he and Duncan Gibson, the assistant curator, put away all the GoreyFest auction props and tables from the previous night. The auction was a success, again, and they were rightfully exhausted. I didn't want to interrupt with questions, so poked quietly, and happily from case to case. There was much to be absorbed, and I knew it couldn't all be done in the two hours I had before departing for Boston's Logan airport to make my flight. It would take 1 1/2 hours to drive, but it had been raining and the potential for delay was ripe. Even so, one cannot rush Gorey.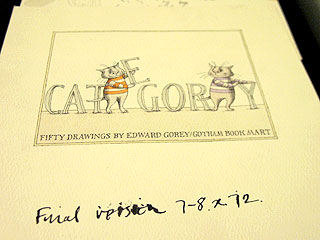 Starting from the farthest room in the rear, I came up to the Mystery! Theatre room. Fortunately, the exhibit remained mostly intact from a few years previous. Apparently WGBH donated some of the props used on the set while Diana Rigg was host of the program. The sets were marked with tags belonging to the Mystery! II series. I wondered what happened to Mystery I, I thought. I was very relieved to see a case with a few of the animation cels created for the opening sequences by Mr Derek Lamb. They were left over from the previous exhibit, which I missed. Animation art is of particular interest for me as well, and I studied them closely. Gorey had provided three or four characters drawings for the key animators, the people who create the sketches that are eventually turned into the hand painted figures on acetate plastic sheets, or animation cels. They are then photographed, in sequence over painted backgrounds. Make several hundred of these, and you have thirty seconds of animation. I was ecstatic.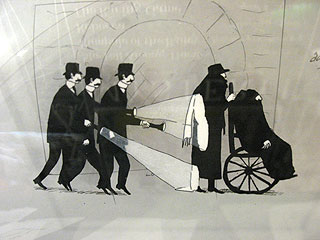 An adjoining case held a variety of old tassels. They turned out to be models for those ominous objects menacing various innocents in Les Passementaries Horribles [1976]. There were a half dozen matching original art pieces used for the book. Very nice.

True to the house's previous owner, every corner is crammed with stuff. Bowls of rocks and glass balls. Blue bottles in the windows. The kitchen is restaged to resemble its appearance eight years past, using Kevin McDermott's Elephant House photos from the time period. The most amusing, I thought, were the props lying around the kitchen, hallway and staircases. Some of them were just there for the post-auction clean-up, others, like the frames, were intentionally placed. How wonderfully indulgent!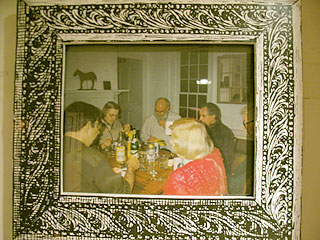 The wood and glass case containing this year's feature exhibit is located in the middle of the main floor, between the front room and center space. It's surprisingly small, compared to the other exhibits. But the contents say a lot about recognizing talent at a young age. Within were a few examples, there must have been many more, of colored drawings from Edward Gorey's learning years. There were several series of feline and canine character drawings from 1937 (that makes him 12 years old) which charmingly depict some of the popular dances and dance floor shimmies of the Jazz Era: the 'Susie Q', 'Peckin', and the 'Covina Roll' (taken from a popular movie musical Harold Teen [1934], based on the 1920's comic strip by the same name, drawn by Carl Ed [pronounced 'eed']. The movie takes place in Covina - not West Covina, California, 22 miles from Los Angeles. I've been there. It's a nice place.)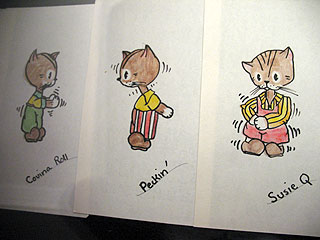 There were many, many smaller exhibits designed to reveal the evolution of Gorey's illustrations for many popular titles, including Categor y, The Doubtful Guest, Cautionary Tales for Children, The Jumblies, Miss Clawfooty and the Demon, and an unpublished Dracula title. The gift shop had grown in size, to accommodate a much larger selection of Gorey stuff. As predicted, I ran out of time. An entire room remained unexplored. That's fine. It gives me a reason to come back, sooner this time.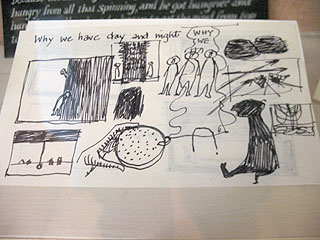 The Edward Gorey House is lovingly maintained and curated by Rick Jones and Duncan Gibson and a crew of volunteer creatives (is there any other kind?), staffed by a troupe of docents who were, ten year ago, neighbors and friends of Mr Gorey. They can tell you things books yearn to tell. All these things, rolled up into one place, bringing all that Gorey lived and breathed, presented with an unprocessed feel of a working studio: all to hold the presence of a kindly yet confident man and artist, a product of another era; the talented, self-studied and iconic personality that is Gorey.



Glen Emil,
Goreyography
Oct 5, 2008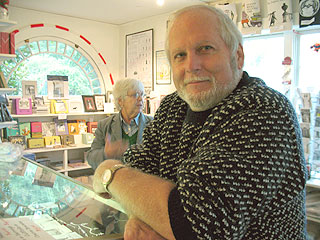 Special thanks to Rick Jones, Duncan Gibson, and Tom Michalak for their kind assistance.




©2008 Goreyography+WZP. All rights reserved.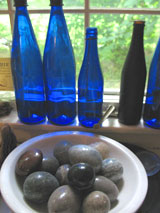 Looking toward the kitchen window over the counter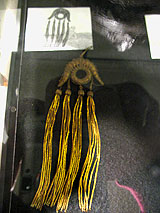 The last tassel seems to be missing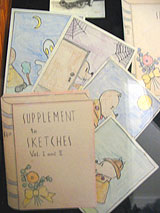 'SKETCHES in Two Volumes, with Supplement' by Ted Gorey, 1937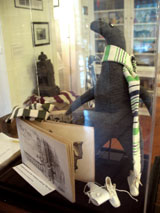 Prototype Doubtful Guest doll, donated by Jim Weiland