It's the
Little
Things
in Life

The American Library Association
and
the Association of College and Research Libraries'
Rare Books and Manuscripts Section
presents

a Rather Large Award for a Rather Small Brochure:

the Exhibition Award
to Malcolm Whyte,

in conjunction with the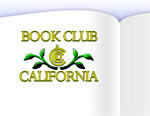 For more information call
The Book Club of California
(415)781-7532



Read a review in the Mills College Campanil







Photographs by Glen Emil
©2009 Goreyography



Award image provided by Malcolm Whyte

20 July 2009 Special to Goreyography

M alcolm Whyte has given much to the Gorey community through the years. His contributions are diverse: as publisher - founder of Troubador Press (Gorey Games [1979], Gorey Cats Paper Dolls [1982] ) and Word-Play, Inc. (Goreyography [1996], the bibliography and price list written by Henry Toledano), as co-author of Great Comic Cats [1981] with Bill Blackbeard and as co-founder of the Cartoon Art Museum, now considered a San Francisco institution.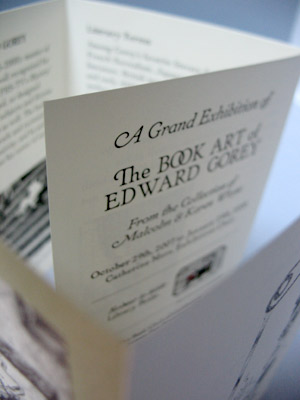 While a boardmember [now retired] for the museum, Whyte curated two noteworthy Gorey exhibitions: Artist of Mystery, Original works by Edward Gorey [1993] and Gorey World, Paintings, Drawings & Mysterious Objects [1996], and for both shows Whyte created and produced well-received catalogs. It's no surprise from this legacy then, that Mr Whyte recently received an Exhibition Award from the Rare Books and Manuscript Section of the American Library Association for his latest effort, a catalog brochure and promotional postcard set for last year's The Book Art of Edward Gorey exhibition, hosted by the venerable Book Club of California in San Francisco at the end of 2007.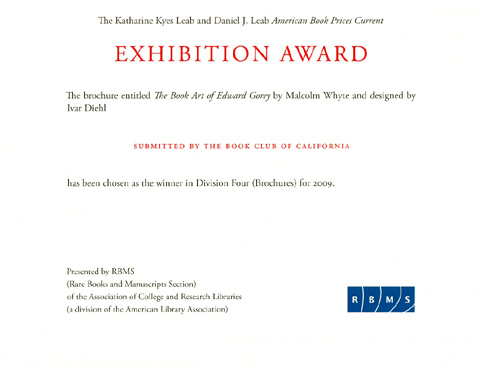 Designed by Ivar Diehl of The Key Printing & Binding, this compact yet informative penta-foldout brochure reflects the brevity and charm of Gorey's work it showcases. The 'Catalogue of the Exhibition' portion lists its thirty-nine items without flourish, the introductory overview is broken into 'Literary Forms' and 'Eclectic Formats', presenting an arguable perspective. Most entertaining is an image of harem eunuch fan-bearers, split down the middle, forming a 'gated entry' into the brochure, a luscious bit of drama before getting to the nitty gritty.

While the exhibition has long been dismantled, copies of the brochure and postcard can still be obtained, for a nominal fee, while supplies last from:

The Book Club of California
312 Sutter Street, Suite 510
San Francisco, CA 94108
415-781-7532
www.bccbooks.org



-- Glen Emil, Goreyography





Special thanks to Malcolm Whyte, Lucy Cohen of The Book Club of California and Andreas Brown for their kind assistance.





©2009 Goreyography+WZP. All rights reserved.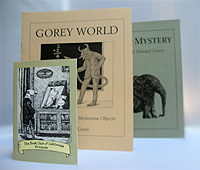 The newest of three exhibit catalogs front and left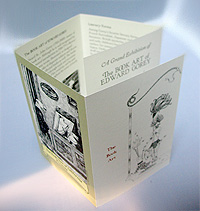 View with front panel to the left, with an illustration from The Unstrung Harp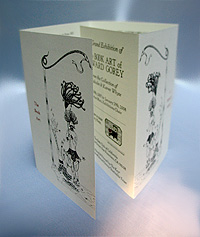 The 'harem's' entryway ever so slightly ajar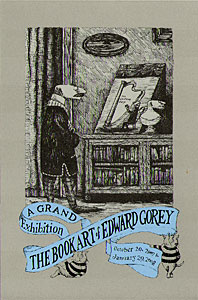 Postcard mailer design. Turquoise never looked so inviting.