Goreyography
Reviews

The Betrayed Confidence
Revisited
Ten Series
of Postcards

by
Edward Gorey
with
Edward Bradford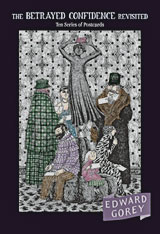 The Betrayed Confidence Revisited
by Edward Gorey
Essay by Edward Bradford
Hardcover with dust jacket
104 pages with 16 color
and 116 b&w illustrations
Size: 7 ˝ x 11 inches
ISBN 978-0-7649-6802-0
$24.95 ($29.95 Canada)
Available from
Pomegranate
and
Amazon.com
Reviewed
March 19, 2014
by Glen Emil

March 19, 2014 Special to Goreyography




I see four reasons (maybe five) to buy The Betrayed Confidence Revisited: Edward Gorey's hand-painted edition of Interpretive Series, his National Post Card Week announcements, Q.R.V. Unwmkd. Imperf. and Q.R.V. Hikuptah, and Edward Bradford's enlightening essay on these works in Separate Unity. Together they are worth the price of acquisition.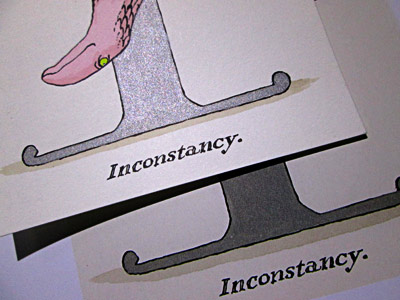 Difficult to capture metallic paints: compare actual (top) to printed (bottom)

A real visual treat comes in the hand-painted edition of the Interpretive Series postcards. Most Gorey enthusiasts would not have seen them all otherwise. I wish there was a method to capture the richness of Inspiration's ' I ' painted in metallic gold, and Inconstancy's ' I ' painted in silver, which is lost in reproduction. But these aren't complaints; the inclusion of the handpainted edition is brilliant. Our reptilian dramatist truly comes alive in Gorey's chromatic palette.

The National Post Card Week series is very entertaining, seeming to capture the moment in time they commemorate. This is the first time I've seen them assembled all at once.

But an unexpected pleasure came near the end, with the two Q.R.V. postcard series Unwmkd. Imperf., and Hikuptah. Having been previously fascinated by the original sets as stand-alone works, they appear here in contrast to Gorey's illustrative hand, and I found them surprisingly fresh and satisfying presented this way. They became more intriguing, grounded in Dada and the surrealist traditions that Gorey is said to have embraced. Compared to this cut-out assemblage of 19th-century steel engravings, Gorey's typical hand feels theatrical, comedic, and attuned to the stage of a certain era. The Q.R.V. postcards are noetic, cerebral. The comedy is intact, but removed from his trademark expressions. They are very reminiscent of Max Ernst's surrealistic graphic novel Une semaine de bonté (A Week of Kindness), particulary of Friday: Three Visible Poems.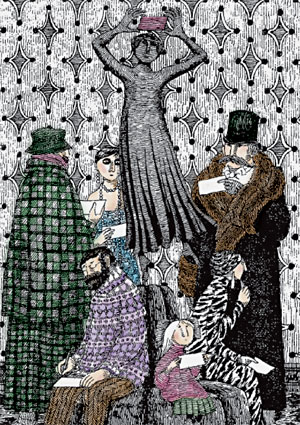 Remember this lot? It's the original limited & numbered edition's print

To revisit, to come back to a place where one has been before, is a benefit of time, a priviledge of age. I'm glad Pomegranate made another pass at the post cards. One never regrets spending time like this.

Available from Pomegranate and Amazon.


Images from Pomegranate and Goreyography