A review of
ELEGANT ENIGMAS,
the Art of
Edward Gorey

an Exhibition
of Original Artwork
at the
Brandywine
River
Museum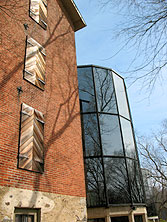 Now Showing

March 21 thru May 17 2009

Brandywine River Museum
(610) 388-2700
U.S. Route 1,
P.O. Box 141,
Chadds Ford, PA 19317

Open Daily 9:30am - 4:30pm

Adults $10. Seniors,
students, kids 6-12 $6



Read the BRM press release




Reviewed 21 March 2009
by Glen Emil




For information about
the exhibition catalog
Elegant Enigmas, visit
Pomegrante
or,
order from Amazon.com



Images by Goreyography
Copyright 2009

24 March 2009 Special to Goreyography


After passing diagonally through the gristmill's 19th century stone courtyard and stepping through the entrance into a bright white 20th century rotunda, a three-story glass wall towers above, following the curvature of an enclosed spiral staircase. It's the first step in the transformed spaces to come. After all 'there's art in them walls!' On the 2nd floor: Elegant Enigmas, The Art of Edward Gorey.

The Brandywine River valley is pastoral, gentle on the eyes, and the ears. Birds are everywhere. The museum sits quietly just a few yards from the banks of the Brandywine River, which flows down to the Christina River and Wilmington harbor, then on to the Delaware River. Back upstream in Chadds Ford, on 9/11/1777, British foot soldiers attacked and eliminated enough American militiamen to descend fifteen days later to occupy Philadelphia, for two years. General Washington had miscalculated.

Back at the museum, Lee Wierenga had worked hard to avoid miscalculation. Ms Wierenga, curator for the exhibit, had begun work on Elegant Enigmas three years ago. Her battle – to strategically place 186 works of art, and one fur great coat, within the confines of the winding 2nd floor north gallery. She employed 18th century technology, a small scale model of the gallery, complete with tiny (in this case, miniscule) paper cut-outs representing the hanging pieces, to maneuver and position groups of unstrung harps and epiplectic bicycles into their best location. Even the wall colors were tested here first. Once the exhibit begins, there would be no changes, no retreats.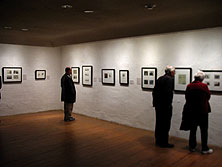 Ms Wierenga did not miscalculate. Her battle won, she stood back as nearly 600 guests filled the gallery during the members-only gala the night before opening day. While it is true that this is a sizeable gallery, attendees had to squeeze and squirm to get a glimpse of Gorey's fine line pen and ink artwork that tends to be as small as a postcard. Fortunately, there were far fewer shoulders to contend with on opening day. But attendees of both the previous evenings' event and today's opening I managed to talk to all agreed – they hadn't seen anything like it before. For one Gorey newcomer it was strange and lovely. Others described it as absorbing, intimate, and amazingly delicate art. For this Gorey enthusiast, it was spectacular.

Most of the artwork is displayed in groups of three or four pieces within a single frame. I found it to be more fitting than the more typical singles. Perhaps done to tackle wall space constraints, it seemed to bring Gorey's art pieces into greater context with each other. Gorey once replied to a request to exhibit his work from James Davis, Curator of Special Collections at UCLA in 1966: "…I am [also] frankly reluctant to exhibit them, as they are done only for the books they appear in, and I don't feel they have much to recommend them simply as drawings." While I might not agree that Gorey's simple drawings don't have much to recommend them, I do think he intended his books constitute the desired work of art, not the individual works within. However, Gorey's intended and unintended works alike, invites attention. Even his preliminary artwork, which I'm sure he would have been loath to show, was placed beside final versions, for pleasing comparisons.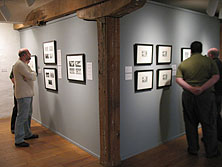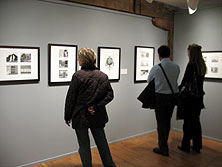 I thought the display cases were especially well done. Wierenga feels that 'less is more', and makes for a better display. I took note, and have to agree. Having created several display cases for Goreyography library exhibits in years past, I remember succumbing to over-stuffed glass cases more than once. Here, the cases became highlights of the exhibit, not space-makers for pieces unable to fit elsewhere. Displays for 'The Osbick Bird', sketch notebooks (next to the Tragedies Topiaries artwork), and the decorated envelopes to Gorey's mother, Helen Gorey, were very nice examples.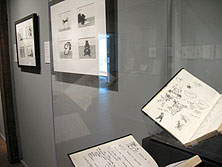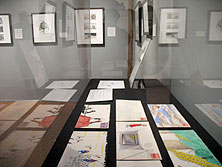 Spending nearly as much time watching gallery viewers as taking in the art, I wanted to see how people regarded Gorey's art. I also thought I'd be able to discern the Gorey devotee from the curious. In the end, I couldn't tell. Most lingered silently, moving backward and forward to catch minute detail and overall effect. Some laughed or giggled. I overheard quiet exclamations "Oh my!" and "How does he do that!" a few times. Several children ran back and forth between favorites. Wisely, the rope barriers weren't used in this exhibit as they are in the rest of the museum. One needs to get close to Gorey's art, really close in my case, to savor Gorey's super-fine line work. I suppose the only other thing that would've come in handy that afternoon was a good magnifying glass.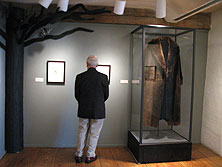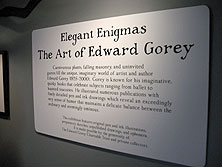 A must-see exhibition, Elegant Enigmas; the Art of Edward Gorey will be at the Brandywine River Museum until May 17, 2009. Take advantage of the lowest airfares in years. You won't be disappointed.




-- G.Emil, 21 March 2009





Many thanks to Lee Wierenga, Assistant Curator, Brandywine River Museum, and Andreas Brown of the Edward Gorey Charitable Trust for their generous assistance.