An interview with
JOHN CAROLLO
of
MUSINGS of MYSTERY and ALPHABETS of AGONY:
The Work of
Edward Gorey

in an exhibition
at the
University of
Hawai'i at Mānoa
Now Showing
Sept 26 thru Dec 10, 2010
University of Hawai'i
Art Gallery
Gallery Hours:
Mon - Fri 10:30 - 5:00
Sun 12:00 - 5:00
Closed:
Saturdays & Holidays
Admission is free
Parking fees may apply
Interviewed
26 Sept - 5 Oct, 2010
by Glen Emil

6 October 2010 Special to Goreyography


Ten years after Edward Gorey left us, much is still ill-at-ease. The world is full of worry, and full of humor. And it's perhaps why Gorey's little volumes and curious pen & inks can still speak to us as they did 10, 20…40 years ago. But there is much to celebrate too. Like those wonderful, large, museum-quality Gorey collections exhibiting across the country. Or great collections dispersing to the masses in auction houses on both Coasts this October (2010). If only there was more of that pre-2007 funny money at our fingertips, we'd all have fatter Gorey collections.

Still, if you happen to be in Hawai'i around this time, it might be possible to forget about all that, and enjoy All that is Good, in the Here and Now. Until Dec 10, 2010 the University of Hawai'i at Mānoa in Honolulu, on the main island of O'ahu, will host "Musings of Mystery and Alphabets of Agony: The Work of Edward Gorey". Andreas Brown describes it as the "most elaborate" Gorey exhibit he's seen (outside The Edward Gorey House, that is). "It's absolutely incredible!" Brown adds. All thanks to several talented museum organizers and university art students. And to a very generous collector, John Carollo.

Goreyography was lucky enough to have a little bit of Mr. Carollo's time, and he entertained some questions:


Goreyography: John, what can you tell us about this exhibit 'Musings of Mystery...', after attending the opening night?

John Carollo: "The exhibit was very impressive! You can tell that much planning and love went into the overall layout. The opening ceremonies began with a lecture by Andreas Brown, who went into the significance of Gorey's art by describing his take on The Gashlycrumb Tinies. He answered many questions from the audience and there were over 300 people in attendance. Then we went to the exhibit, where actors read Gorey text while visitors went through the exhibit, in awe of Gorey's genius. You have to really come back several times to absorb the exhibit's holdings and I heard many people remark that they were going to do just that!"

"The exhibit is a bit like walking through The Tunnel Calamity. As you walk through doorways you enter another room filled with hidden scavenger hunt items and Gorey books, posters, original art, ephemera and personal effects that are all together in themes. The theme titles are printed on the post and lintel beams. For example, there is a children's section, mystery and horror sections, plus other rooms that exemplify a walk through Gorey's life. Beam heights were lowered to create the architectural feeling of Gorey's house. It's all very impressive and a must see!"

"Art students from the art department painted several Gorey images, including the 'Wuggly Ump' on walls that serve to entertain and amuse. There is a built-in fireplace where the 'Doubtful Guest' appears. The 'Gashlycrumb Tinies' appear in unexpected places! Kudos to Lisa Yoshihara, Director of the UH Art Gallery, who had a significant role in designing this wonderful exhibit!"


Goreyo: I noticed on the event schedule that you will be giving docent tours for your own collection at the University Art Gallery. How would you explain Gorey's art to someone who's never seen it?

Carollo: "I would begin by saying that Edward was a writer who illustrated his stories. He never bores you and that he is quite inventive and if you like to be astonished, then you would like his art. He is humorous, entertaining, pays attention to detail and every ink and pen line counts! He has settings in the past (people describe it as 'Edwardian') that are brought to present times. Every word is carefully crafted and he likes to tell stories matter-of-factly. Each drawing is an independent work of art."


Goreyo: Can you remember how you were introduced to Gorey's work?

Carollo: "As an adolescent, I read humor magazines including National Lampoon where I first saw Gorey's contributions. I would cut them out and save them. That was a wise decision as my adopted father burned the Lampoon collection in the cellar stove to reduce the humidity in the basement! The formal introduction to Gorey's work began in the mid 70's when I walked into Wallace Bookstore in Oil City, Pennsylvania and discovered Amphigorey. I read the entire compilation the evening of the purchase and was impressed by his ability to tell imaginative stories as well as illustrate them."


Goreyo: What attracts you to Gorey's work?

Carollo: "I began adding and collecting comic books at a very early age, age six or seven, and was very familiar with the illustrated story. I enjoyed Gorey's love of and clever use of the English language and his ability to supplement the writing with the wittiest illustrations I've ever seen! Gorey's ability to allow your imagination to interpret by means of your very personal construct system is most striking to me. He leaves much to your imagination, and he allows us to place a template over the events we are witnessing and then to interpret them by means of our unique individual construct system. A lot of the action happens outside of the illustrated panels, which feeds it."

"Also, I could relate to Gorey's world indeed. I felt like one of his characters, as I was abandoned by my birth mother, adopted by a family who were not musical, and scolded by Catholic nuns for creating art during grade school classes. It all seemed very real to me. His surrealistic writing technique was full of irrational juxtaposition that seemed to match my thinking processes!"


Goreyo: Are there particular works which stand out for you?

Carollo: "Yes, in The Remembered Visit, Drusilla went abroad with her parents. In one of the panels, Gorey gives us an image of her parents leaving Drusilla by taking an excursion without her. You see an image of Drusilla looking at the back of a vehicle going away from her. You don't see her parents at all, or their expressions. The reader is left to wonder why. Was she abandoned? Edward never explains, nor does he mention it again in the text of the story. I could relate to this in my own early childhood when my mother left me up for adoption, placed me in an orphanage right after birth where I spent the first 4 and ½ years of my life with other children and orphans. There are many questions I have that have been left unanswered. Only my imagination is left to fill in the gaps. Gorey is a genius at this type of portrayal."

"The West Wing leaves everything to the imagination, as it is a series of black and white illustrated panels with no text. It's really a study in anxiety. How often have you had a feeling of impending doom? We probably experience a bit of it often. Each panel seems mysterious and foreboding. It's dark vs. light, which Gorey uses to great effect. I recently composed a work for string orchestra titled "Starry Night" after Van Gogh, Starry Night over the Rhone 1888, Musee d'Orsay, Paris, and in the liner notes I state that fear of the unknown brings with it its association with danger and evil. You can conceal potential dangers and that awareness reinforces the power that the unknown has over us. Danger is just around the corner in The West Wing."

"In The Insect God, Gorey writes that Millicent's family's nurse was discovered disheveled and irrational, which may or may not have anything to do with the missing Millicent. My adopted mother suffered from Alzheimer's disease and her mental deterioration had a devastating affect on me. Madness can be one of life's unexpected tragedies and many people may want to hide this fact from their family histories. Senility is a condition we fear as humans as we have seen family members afflicted. Gorey exploits that fear and brings it to our level of awareness."

"In The Iron Tonic Gorey offers us an illustration where he states, "The light is fading from the day. The rest is darkness and dismay." The "Starry Night" explanation comes to mind again and it is the return of light that brings illumination and understanding. We rejoice by being more active and absorbing the day's unfoldings."


Goreyo: The desire to discover and enjoy all what Gorey had to give is well understood. How did it feel to build such a collection, ultimately to donate it to a public institution?

Carollo: "As Gorey was, I'm likewise, a collector. It got to the point where I amassed such a huge collection that it was threatening to take over the living quarters and also, when I moved to Hawai'i the humid conditions were threatening to damage the books. I witnessed the preservation department techniques at University of Hawai'i Mānoa and that led to the first donation made in 1998. The thought of having the collection dispersed upon my demise was unthinkable! I wanted to inspire art students at the University to create great art."


Goreyo: Gorey collectors, sleuths, gumshoes, can often tell tales of triumph or victory, of epiphanies, or regrets for missed opportunities. Are there memorable moments you can recall?

Carollo: "I can remember buying my first signed, first edition, hardback book in a bookstore in San Diego, California. The Loathsome Couple was both horrifying and humorous. I had to have more, got in contact with the GBM (Gotham Book Mart), received a catalogue and began to buy all things Gorey in earnest from that day on."

"The first time I received and saw an original work of art in 1995, Ben Kahn Presents (Furs), I said to myself, "No needless pen and ink strokes, I'm holding and viewing a work of art by a true American Master."

"Receiving Edward's Coptic Cross after his death was memorable and most touching. The estate, I believe, mailed personal effects to collectors and family members following his death in 2000. I was on the list to receive an item and when the cross came, I wore it daily for over a month, and I now have it hanging visibly over the light on the upright piano in the living room."


Goreyo: What else do you remember about Gorey's death, ten years ago?

Carollo: "I was profoundly sad for a long time. Adopted babies have to deal with abandonment issues as adults and they don't deal with loss very well. Although I never met him, I felt like I knew him though his art. I did not want this most creative man to end his story telling, to end his fabulous knack for illustrating. It's a profound loss."


[ to be continued… ]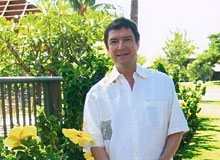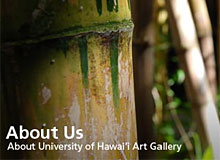 John Carollo (image by John Carollo)

John Carollo is a composer, whose latest arrangement of Transcendence in the Age of War, written to the Memory of 9/11, will be released on CD later this year on Navona Records. Mr. Carollo was born in Torino, Italy, and was previously a mental health professional for the Hawai'i State Department of Health.



A must-see exhibition, Musings of Mystery and Alphabets of Agony: The Work of Edward Gorey will be at the University of Hawai'i at Mānoa Art Gallery until Dec 10, 2010.


-- Glen Emil, Goreyography





Many thanks Sharon Tasaka, Associate Director, University of Hawai'i Art Gallery, Andreas Brown of the Edward Gorey Charitable Trust and John Carollo for their generous assistance.