Goreyography
Reviews

COTTAGE CLASSICS
Their Makers
&
The Making

by
Malcolm Whyte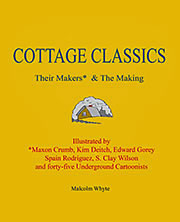 Cottage Classics: The Makers & The Making
ISBN 978-1-892847-06-5
$24.95
available from Word•Play
,
or from
Amazon.com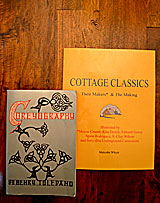 Reviewed
March 13, 2014
by Glen Emil

March 13, 2014 Special to Goreyography




In his preface to Goreyography: A Diver's Compendium, Henry Toledano declares that he chose not to write a 'bibliography', but a 'Goreyography' - a general reference about Gorey, and to share his enthusiasm for Gorey's amazing little books. Toledano had championed Gorey's work for years, notably selling foreign editions from his Books, Etc. storefront in San Francisco's Castro district. When buying books for the store, he lived by a simple rule: "Never turn down a Gorey book." Never.

Meanwhile, a few miles to the north, in The City's financial district, Word•Play's founder Malcolm Whyte was also actively sharing his enthusiasm of Gorey's work: publishing Gorey Games [1979] and Gorey Cats Paper Dolls [1982], and co-authoring Great Comic Cats [1981]. Whyte also created exhibitions of Gorey's artwork, Artist of Mystery [1993] and the next, Gorey World, was slated for 1996 at his new Cartoon Art Museum. By the time he was introduced to Henry Toledano through Jim Weiland, another Gorey super-collector, Whyte was ready for something new. Upon hearing about Toledano's latest project - a Gorey checklist, Whyte formed a new resolve: "I had to publish Toledano's book. Gorey collectors, myself included, were increasing rapidly around the world; we urgently needed a bibliography to navigate his works."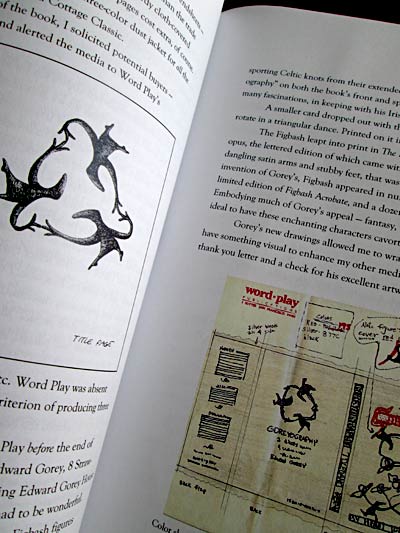 Word•Play's Goreyography: A Diver's Compendium, arrived in 1996, just in time to help hundreds of Gorey collectors and booksellers sort through all the heresay and speculation of what was or wasn't an Edward Gorey first edition. Henry Toledano's new book helped collectors spot the holes in their growing collections, and having their values down in print helped spur the hunt by booksellers. Gotham Book Mart in Manhattan (Gorey Central to some) had previously published checklists, but tended to focus on Gorey's own publications, his 'primary works'. Toledano wanted to checklist all the other appearances of Gorey's output, and in doing so help start a fresh wave of interest. It also helped establish a consensus within the wider book community that Gorey collecting was a sustainable marketplace.

What emerges in Malcolm Whyte's chapter on Goreyography in this, his most recent book, Cottage Classics: Their Makers & The Making, is the engaging story of how Goreyography: A Diver's Compendium came about: the devotion and right choices and good fortune, as he takes us through the labyrinth of transforming Toledano's wish into print, to mold a work in progress into a really useful compendium. Whyte bobs and weaves his way through deadlines and Gorey's promises to deliver artwork, and as Goreyography clears the final hurdles, its successful realization is a nod to Whyte's persistence and experience.

And yet, after digesting Whyte's episode and reflecting upon the years since Goreyography: A Diver's Compendium's initial appearance, there still seems an element of magic that brought success to his checklist, that luck had a hand in allowing Gorey collectors around the globe to wallow in pages of new-found Gorey knowledge when it was needed most.


Images from Word•Play and Goreyography