Goreyography
Reviews

Edward Gorey
HIS BOOK COVER ART & DESIGN
essay
by Steven Heller


Edward Gorey
His Cover Art & Design
with an essay by
Steven Heller
Hardcover with dust jacket
Size: 8 x 10 x .75 in
ISBN 978-0-7649-7147-1
$40.oo
Available from
Pomegranate
and
The Edward Gorey House store
Reviewed
April 15, 2015
by Glen Emil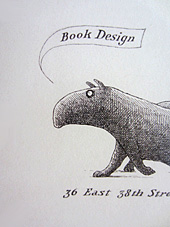 part of Gorey's new business card, previously unpublished
April 15, 2015 Special to Goreyography




No matter how hard I try, I am unable to choose just one favorite Edward Gorey book cover. Over the years, over time, I thought I'd be able to narrow it down, using wisdom and hindsight, to maybe two or three. Or five, or ten. Alas, over 200 different Gorey cover designs later, nearly all of the paper and hardback covers in the Goreyography collection seem to reflect something that is sublime, charming, insightful, purposeful or simply able to make me laugh.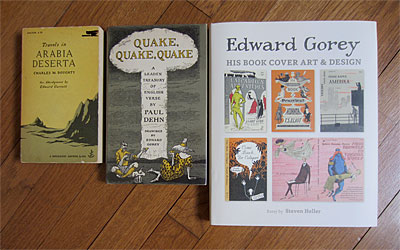 Two favorite covers, alongside the newest from Pomegranate, on the right.


So I hoped Edward Gorey: His Cover Art & Design would somehow expose the Gorey-est of Gorey covers, hoping the latest Gorey study from Pomegranate would reflect some analysis and a consensus among experts, maybe even Gorey himself, to ferret out The One, or Ones. Well, not quite. But I'm convinced this book has managed to precisely illustrate and encapsulate the same dilemma encountered by we who are prone to collecting these wonderful things: there's not one that will rise above the rest, that nearly each design is as appealing as the next, for all the right reasons.

Gorey's work at Doubleday Anchor is often seen as his debut into a professional arts career, so over thirty of these Anchor gems are reproduced, it's fewer than half the designs Gorey is credited for. Nearly an equal number of hardcover dustjacket designs by a variety of publishers are shown, sporting a wider range of styles and color palettes than the Anchor books. The thirty or so covers from the books that Gorey illustrated, offers yet another distinct style and with greater complexity, for these books.

And such a distinctive style. Gorey's drafting skills: his perception of the layout, typography and hand lettering possessing a humanistic, deliberatly hand-crafted style. It's an effect that has parallels in the decorative arts in the Arts & Crafts Movement, while his undulating and flowing lines, the beauty of the 'violently' curved form so pervasive in Gorey's pen and ink is a trademark of Art Nouveau. Both art styles were very popular during the Victorian and Edwardian eras in Europe and America. Both are strong contrasts to the intellectualism of the modern age to follow. Even as Gorey's mind embraced modern thinking, his hand exemplified the hand-drawn as the artistic spirit found in all the arts. Gorey was a master of combining both, the visual arts in service of the intellectual, literary arts. There is no parallel to holding a book designed by Edward Gorey in your hands.

A nearly 50-year span of Gorey's cover artwork is showcased, and with Steven Heller's essay providing a fascinating, and sometimes humorous background, a pretty informative volume is the result. The contributions by Anchor co-worker and friend Consuelo Joerns and Andreas Brown might have been carved out and given their own space, adding more color and variety, but all-in-all, Pomegranate has once again managed to publish a very useful and entertaining volume, focusing on the accomplishments of one of the greatest literary artists since the invention of the modern book, iconic in great coat and sneakers.


-- Glen E., Goreyography.com



Available from Pomegranate and the Edward Gorey House Store.


Many thanks to Pomegranate and the Edward Gorey House. Images by Goreyography.
©2015 Goreyography. All rights reserved.