Edward Gorey House
2010 Season

Cure for the
Post-Gala Blues:
A Long Visit
at the EGH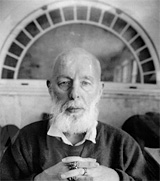 Not all that long ago...



Read about the
9th Annual Gala & GoreyFest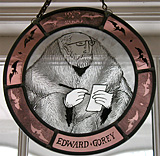 Artful Associations:
Edward Gorey
and Famous Authors
"The exhibit features the wide-range of Edward Gorey's works for other authors, including Hillaire Belloc, Florence Heide, Edward Lear, T.S. Eliot, John Updike, Muriel Sparks, and many more. This exhibit showcases original pencil sketches, pen and ink drawings and watercolors. Many works in the exhibit are unpublished; some are on loan from private collections and have never before been on public display, creating a special opportunity for even the most serious Gorey fans and collectors to see works exhibited for the first time."

-- Edward Gorey House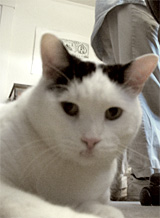 Even Ombledroom notices more visitors lately



9th Season ends
January 2, 2011



For more information call the Edward Gorey House

(508) 362-3909



Images by Glen Emil.



19 November 2010 Special to Goreyography


In The World of Edward Gorey (Abrams, 1996) Mr. Gorey mentions to interviewer Clifford Ross that "I would cheerfully sell my soul to draw like some people." Like Edward Ardizzone, for instance: "…it's a very simple black and white technique…It's a very, very simple technique". I was pleased as punch when I read that, especially as I just finished reading something of Ardizzone's which seemed to correlate so nicely with what I believe, are some of the reasons Gorey's illustrations work so well.

In 1957, Ardizzone spoke at a book arts society about how he concluded that, after some analysis, there were only a few good and many more not-so-good illustrators coming out of the art world. And that most good artists were not – good illustrators. A good illustrator, Ardizzone said, was born as such. His audience didn't take this sitting down, and the evening reportedly degenerated into a series of 'heated' debates. It was a controversial declaration, seemingly at odds with conventional wisdom within the fine arts community. But Ardizzone was one the most prolific illustrators in Britain at the time, generally acknowleged as having the wherewithal to "deliver the goods"; a true master of his domain.
His decree went something like this:


"The illustrator...besides a sensitivity of eye, and a feeling for colour and design, has to have his own special skills, which are:
1. Inventiveness,
2. The power to draw away from life, or, in other words, to make up,
3. The power to draw small,
4. The ability to use a pen and that intractable fluid, black ink, which is a craft in itself,
5. The ability to read, which is by no means so common as one would think. All can read and understand the words, but how many fail to get the meaning and implications of a book, and
6. The ability to compose with figures and place them together in space."
-- from The Born Illustrator, by Edward Ardizzone, A Talk to the Double Crown Club, 1957"
At first, some of Ardizzoni's 'natural-born skills' may seem a bit nebulous, and at times particular to a certain style, like his own perhaps. But used as a litmous test, these six points do manage to articulate clear requirements seperating the art of painting, and of illustration. Especially the fifth point, the artist's ability to read.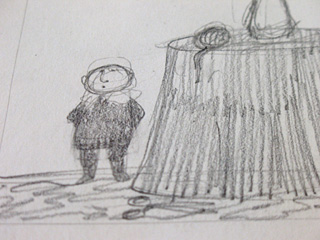 For example, Gorey's love of reading seems to truly come through in his cover art in the Doubleday Anchor paperbacks. Most are clearly inspired designs. They ply the observer's imagination, acting like a map or window to the contents within, sometimes directly or other times, tangentially. Vladimir Nabokov exemplified Gorey's artwork for the cover of Lermentov's A Hero of Our Time: "I never imagined that an illustrator could render an author's vision so accurately." Gorey's love of the story transforms simple line art into true 'illustration'. With Gorey, we can be comfortable judging a cover by it's book. There is no disappointment.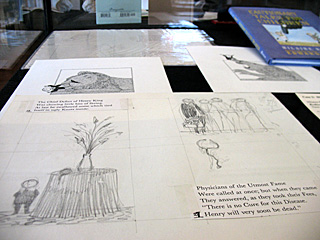 Herein lies the beauty of the latest exhibition at the Edward Gorey House - Artful Associations: Edward Gorey and Famous Authors. Artistically, these 'associations' or colloborations with other authors seem to actually magnify Gorey's skill as illustrator, rounding out an oeuvre that goes beyond the body of his own work. Gorey's ability to draw a character out of a story, and give it everything it needs to perform it's act: her flaws, his doubts, his fears, her aspirations and the comedic drama at the turn of a plot. He is most definitely in his milieu when joined with Florence Heide for 'Treehorn', Peter Neumeyer's 'Donald', Edward Lear's 'Jumblies', T.S. Eliot's felines, Alphonse Allais, Charles Cros, Felicia Lamport, John Ciardi, John Bellairs, and many others. Artful Associations takes many of these, and give us something to chew on.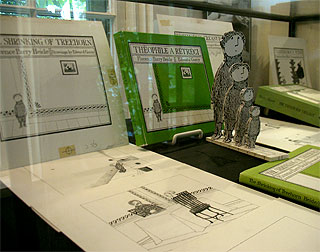 To help us along, Rick Jones, curator for this exhibition, chose to display rough pencil sketches for Hilaire Belloc's Cautionary Tales for Children exhibit, which adds another dimension. Gorey's fine, etching-thin precision is always a marvel to behold, but one can see how a character comes to life in pencil. Pencil sketches are marvelous things, the lead conveys weight and emphasis like no other medium. Pencil flows easily, like a fireflies' glow, tracing patterns that will ultimately disappear in the end.

The EGH has access to Gorey's archives, including a whole lot of his preparatory work: rough sketches, character studies, layout designs, and rejected work. I hope to see more of these examples in the future. Unfinished and rough, artists create these studies for themselves, not intended for outside eyes. But since Gorey chose to save them, we can benefit by taking the time to study his hand, as he developed a character or scene. Students of art will find these images useful, and gratifying in themselves, possibly even finding them more fascinating and engaging than the final inked versions in some instances. These sketches can engage without a single word.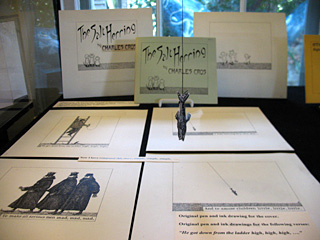 Mr. Jones goes on to add another element to the displays, most enjoyably in the Florence Heide's Shrinking of Treehorn exhibit. Free-standing cutouts of Treehorn in progressively increasing and/or decreasing sizes add a dynamic, playful aspect to the artwork. Though not originally Gorey's, these thick-cut 2D standups give a impression of a scene enacted from the original illustration, a mini play frozen in mid-scene. They are also present in Charles Cros' The Salt Herring, Alphonse Allais' A Story for Sara, and T.S. Elliot's Old Possum's Book of Practical Cats exhibits. I thought the suspended kippered herring in The Salt Herring case was especially inspired. One gets the sense that Cros' knew exactly what indeed would drive serious men mad, mad, mad.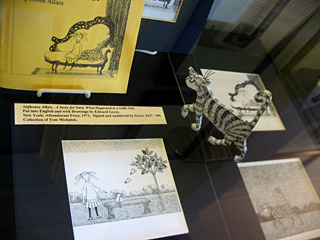 There were other pleasant surprises since the last visit two years ago. First, the museum was busy. There was a constant stream of visitors coming to pay homage to Gorey the cultural icon. The EGH is practically ten years old now, and every year Rick and Duncan tell me, they have seen a steady increase in visitors. Selfishly, I usually measure the pleasure of a museum visit by the emptiness of the hallways, the more space the better, but I have to admit I was proud to see this museum set roots and grow crowded. I didn't mind the docent tours worming around the small rooms that ten years ago served only one man and a clowder of cats.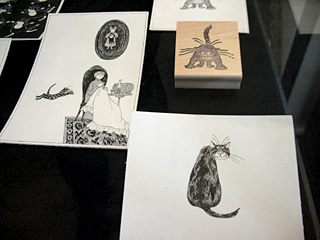 Even then 8 Strawberry Lane must've felt unimaginably crowded, with all the stacks of books, finials and ephemeral what-not Gorey religiously collected. Gorey's house still feels like Gorey's house. It has kept an air of hominess and authenticity that brings any visitor closer to Gorey, to the feeling they have met the man behind the pen. Another aspect of the house is it's pervasive feline presence. I believe it serves as an unintended nod to Gorey's love of everything feline, from 'Practical Cats', to an omni-present, yet subtle cat motif in nearly everything Gorey drew, to Ombledroom looking for a friendly scratch behind the ears. Rick Jones and his staff are also cat fanciers, so the tradition continues unabated.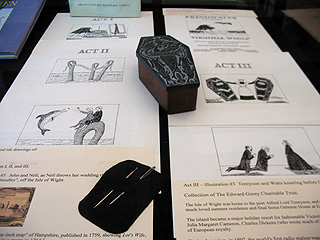 But all too soon, the Edward Gorey House's 9th Season will end, and Winter will set in on the Cape. It's been ten years since Gorey passed away, but those who knew him as a neighbor, friend, or resident eccentric have managed to keep his legend alive, especially for us 'foreigners', how the locals affectionately refer to us tourists. I find it amazing, touching, but not surprising, that Edward Gorey left behind so much of himself, that anyone who looks for Gorey, can still find him.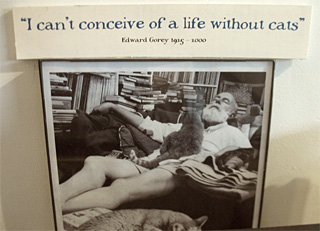 -- Glen Emil, Goreyography
31 Oct, 2010







Special thanks to Rick Jones, Duncan Gibson, and Tom Michalak for their patience and assistance.




©2010 Goreyography+WZP. All rights reserved.