A Review of
Carol Verburg's
Edward Gorey
Plays
Cape Cod
Puppets,
People,
Places &
Plots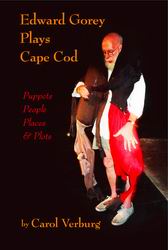 Edward Gorey Plays Cape Cod, Puppets, People,
Places & Plots
is available from
Boom Books in San Francisco
and
Amazon.com
and
now showing (coincidently)
Edward Gorey and the
Performing Arts
exhibit at the
Edward Gorey House
Carol Verburg discusses Gorey's plays June 9 @ noon
Museum Hours:
Apr 15 to June 26
Thu thru Sat: 11am to 4pm
Sundays 12pm to 4pm
June 29 to Oct 2
Wed thru Sat: 11am to 4pm
Sundays 12pm to 4pm
Oct 7 to Dec 23
Fri & Sat: 11am to 4pm
Sundays 12pm to 4pm
Dec 30 & 31:
Fri & Sat: 12pm to 4pm
Reviewed
21 May 2011
by Glen Emil

21 May 2011 Special to Goreyography


'Tis the season for details - personal, private, non-fictional details. The internet and bookshelves are crammed with them, but for those of us looking for Gorey's details, it's time for celebration. After what seemed like forever, books detailing Edward Gorey's collaborative efforts are emerging this year. The season's first book of details is Edward Gorey Plays Cape Cod, written by Carol Verburg, published by Boom Books. Author and playwright, Ms. Verburg produced many of Edward Gorey's shows at Cape Cod playhouses. We are now, finally, able to catch glimpses of the man at work, creating the art which enchants at every turn.

Though Gorey's books are read and treasured worldwide, his theatrical works were very regional, so it's safe to assume most of us haven't, or may never, see one. Which is unfortunate, to say the least. If I could go back in time, I'd make darn certain to catch one of his shows, or 'entertainments' on the Cape [the watery Cape Cod environs between Provincetown and Martha's Vineyard in Massachusetts]. Perusing a list of performances or living off of second-hand impressions of Gorey's plays isn't very compelling, so Verburg's book is welcome.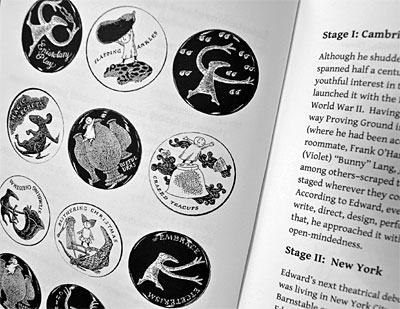 Here, Edward Gorey Plays Cape Cod gives us a pretty good dockhead to jump from. Weighing in at thirty pages, it's deceptive in its brevity. For all its slightness of heft, it is packed with detail and insight into Gorey the playwright, director and performer; as he crafted such classics as 'Heads Will Roll & Wallpaper' and 'The White Canoe'. There are anecdotes suggesting that Gorey's plays could be considered collaborative, each player an unwitting partner in realizing their production. All were deeply involved, occasionally wearing several hats - Verburg notes that even as Gorey directed many of his own plays, "If an actor pressed him [Gorey] for help, he might turn the question over to me [Verburg]: 'Ask Madame la directrice.' "

Most curious and fascinating might be Gorey's hand-puppet shows by the troupe 'Le Théâtricule Stoïque'. Fascinating because they seem so ephemeral. Curious because the magical moments they revealed seem to have passed before any were recorded, so any information, even circumstantial, aids the reader's imagination. I say 'seem to have' because I trust Gorey's talent. Having not seen of his plays or puppet shows in their entirety, yet well acquainted with his drawn works, I assume his live shows had cast the same spell on his audiences, for they were in great demand on the Cape. Verburg gives us enough to confirm that indeed, Gorey's experimental-ish works were well regarded by the world of stage players and directors.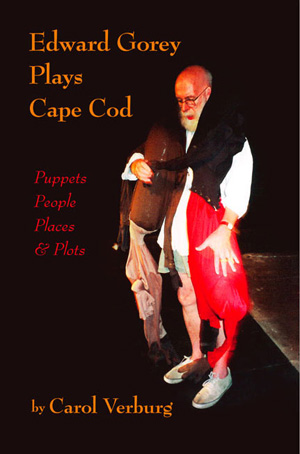 Gorey holding what appears to be a puppet


Edward Gorey Plays Cape Cod begins to fill an enormous void which surrounds Gorey's theatrical oeuvre. It's a great start, and I come out feeling like an insider. Beginning with an overview of Gorey's theatrical involvement from Poet's Theatre at Harvard to Broadway (on & off), to Provincetown and Theatre on the Bay, then onto Cotuit, it also guides us to Gorey's final, sad days in April, 2000.

(Interestingly, as an aside, and perhaps in aid of filling that void, Verburg has simultaneously published 'Croaked: an Edgar Rowdey Cape Cod mystery' - a slice of Edward Gorey's everyday life on the Cape…and soon to be reviewed.)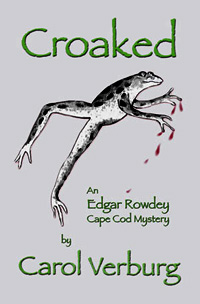 In her book, Carol promises that Gorey's play scripts will soon be published. I can't wait. And maybe if someone someday were to recreate and market some of those 200-odd hand puppets, I too can become a performer of some of these tiny 'entertainments' from this favorite artist, in the safety of my home, for an audience of cats and kids. I can one day, hopefully, re-live the plays I never saw.


-- G Emil, Goreyography



A must-read reference book, Edward Gorey Plays Cape Cod, Puppets, People, Places & Plots is available from Boom Books in San Francisco and Amazon.com in May, 2011.


Visit Goreyography's not-so-compelling list of Edward Gorey's Plays and Related Stageworks for examples of his promotional artwork and stage billing.





Many thanks to Carol Verburg and Andreas Brown of the Edward Gorey Charitable Trust for their generous assistance.