Among His Favorite Things

A review of
Kevin McDermott's
ELEPHANT HOUSE: or, The Home of Edward Gorey

by Glen Emil

more information:
ELEPHANT HOUSE: or, The Home of Edward Gorey

Photographs and text
by Kevin McDermott
Forward by John Updike

Published by
Pomegranate Communications

128 pages
70 photographs
15 drawings and etchings

Hardcover with dust jacket
Size: 11 1/4" x 8"
ISBN 0-7649-2495-8
$35.oo list price

Order your copy from Amazon

1 September 2003 Special to Goreyography

As I prepare to walk up to the porch of Edward Gorey's home in Kevin McDermott's book Elephant House: or, the Home of Edward Gorey, I am prepared to be surprised. Images flash through memory - bizarre inert characters from Embley and Yewbert to the flamboyant Figbash. I expect to be greeted by Doubtful Guest dolls lurking behind dank Victorian sofas and lots of black umbrellas. I hold my breath.

Instead, I find stones. Lots of them, clustered along the stairs to the left. A line-up of antique irons marches around the corner of the house. And books. Thousands of books are piled high among balusters and finials - architectural embellishments long separated from their structures gracefully and imposingly placed upon windowsills and cabinets. Clusters of nearly every imaginable sort of bits used in everyday life are tenderly collected and assembled. Groups of texture and form - standing wooden kitchen utensils and bocce balls mixed with perfectly rounded beach stones. Everything is older, well used and would have normally been discarded after a long and useful life. A huddled gathering of pewter salt and pepper shakers remain steadfast upon a tray.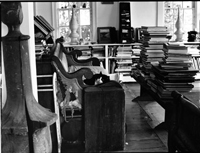 As I gaze through the entrance room, through the living room and the kitchen, I find the author's black and white photographs eerie, haunting. Kevin McDermott's pages takes me from room to room, filling in the cluttered corners with anecdotes and reminisces of Gorey's life here, as one who knew him closely could only do. Not as a remote docent at the Van Gogh exhibit reciting textbook fare, but as a friend relating peculiarities about a companion.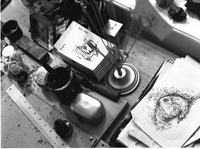 The journey of Gorey's Elephant House is mostly black and white, with splashes of color photographs accenting the pages with surprising bursts of pigment. A cluster of bright blue glass bottles in a well lit window give as much insight into Gorey's playful inventiveness as any four page interview has attempted (dozens of interviewers have tried to ply telling details from Gorey in the last 30 years, mostly to no avail). I do find Figbash and the Doubtful Guest - they are not central but instead ancillary to a greater collection of flotsam and jetsam, worn stuffed animals and books, music and artwork, that filled Gorey's mind. Well, one theme appears central - books. The Elephant House was bloated with 25 thousand of them. I laughed out loud when I reached the library, as it looked to be only an extension to every other room. I have several friends whose homes are similarly endowed, so I understand its pleasure.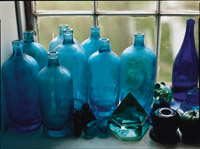 As far as the title goes - Elephant House - I happily find no token ceramic Asian elephant end tables, but rather an ancient commode with an abstract nod to a pachyderm. A chunk of driftwood in the kitchen is very elephant-like. Speculation falls on the aging scaly gray shingles on the house's exterior (Gorey could have easily called it the Frog House, however, for his love of frogs appears everywhere.) A sobering image of modern plastic medicine bottles, artfully placed on a window sill, reminds me of Gorey's frailty in the later years and I am again saddened at our loss on that April day in 2000. This excellent book closes the tour with a haunting image that I could not part with for a good fifteen minutes. As John Updike notes in the forward, "Kevin McDermott's photographs bring us closer to Gorey than his art..." Closer indeed. Unforgettably closer.


Glen Emil, Goreyography
1 September 2003