An Evening with
Peter F. Neumeyer
and his latest book

Floating
Worlds:
The Letters of
Edward
Gorey &
Peter F.
Neumeyer

by Malcolm Whyte
Floating Worlds: The Letters of Edward Gorey & Peter F. Neumeyer
is available directly from
Pomegranate
and
Amazon.com
Reviewed
Oct 15, 2011
by Malcolm Whyte

Nov 9 2011 Special to Goreyography



For over 25 years, Edward Gorey's artwork could be found gracing the walls of San Francisco's Cartoon Art Museum. Sometimes a single etching, others by full exhibit such as 'Artist of Mystery' in 1993 or 'Gorey World' in 1996, CAM had evolved into an unofficial nexus of Gorey's art on the West coast.

Exhibitions at the CAM tend to single out the artist's work, whether as extracted from the Charles Shultz 'Peanuts' universe or Pixar Animation Studios, CAM celebrates the stuff on the paper. So it's of little surprise then that when Mr. Neumeyer chose to talk about Edward Gorey and Floating Worlds, he did so at the CAM. Malcolm Whyte was in attendance, and we asked if he could relate the evening's events to us.


Peter Neumeyer at the Cartoon Art Museum
by Malcolm Whyte

There is the book Floating Worlds, The Letters of Edward Gorey & Peter F. Neumeyer by Peter Neumeyer, and there is Peter Neumeyer talking about this engaging collection in person. It was wonderful to absorb both.

Peter Neumeyer spellbound a well-attended, yet intimate, gathering at San Francisco's Cartoon Art Museum, October 15th, 2011, with his recollections of collaborating with Edward Gorey on three books: Donald and the..., Donald Has a Difficulty, and Why We Have Day and Night. They worked together more than forty years ago, but Peter's exuberance made it sound as if they had just finished a visit.

Peter is a handsome octogenarian. As he talked he rubbed his hand through a thick crown of white hair while his strong face, lined with care, humor, and intelligence, animated his telling of first meeting Gorey: sailing silently in a little dinghy; the dockside accident where he dislocated Gorey's shoulder; the interminable wait to be released from the hospital - even after Gorey whispered that his shoulder had re-set itself - and finally how Gorey emerged from the hospital bathroom cradling a blanket and telling the nurse: "I had it all by myself. Now can we go?" (p.11: refers to full tale in Floating Worlds).

Peter showed and discussed images of Gorey's marvelously illustrated envelopes and letters, including one letter that had the 'models head' taped to it: the actual head of a housefly used by Gorey to guide his drawing for the last page of Donald and the... (p. 32 in FW). Throughout his talk, Peter's admiration and respect for Gorey - his gentleness, his generosity, his ever creative imagination - was always present.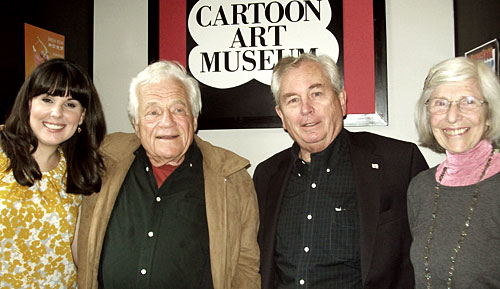 L to R: Stephanie King of Pomegranate, Peter Neumeyer, Malcolm Whyte and


Helen Neumeyer. Photograph by Helen Plunkett, Cartoon Art Museum

Naturally, much of Peter's talk covered material in Floating Worlds, especially the work on the three books and the trials of publishing, but hearing the anecdotes first-hand and being able to have them amplified with questions was priceless. One fresh nugget, for instance, was Peter's insistence on the book having a comprehensive index, thereby making this important document even more useful for further research into the worlds of Neumeyer and Gorey.

The Q & A period prompted a discussion of Gorey's interest in the Zen idea of how trees, for instance, when considered in depth go beyond being just trees, then with further enlightenment, become trees again, but seen in a wholly different light (p.201 in FW). The concept clearly intrigues Peter and left the audience with another, deeper view of Gorey's fathomless intellect.

With a hearty round of applause for Peter, we all exited to the museum's foyer for a sparkling spread of sandwiches, sweets, wine and soft drinks generously provided by publisher, Katie Burke's Pomegranate Communications, Inc. Peter patiently signed and personally inscribed copies of Floating Worlds and his other three books from the museum store, while fans, collectors, museum staff and Pomegranate representatives mingled and chatted more with Peter and his lovely wife, Helen.

Having met major figures in the arts and heard their stories, I always leave the event with the overwhelming appreciation of having witnessed a profound moment in history. Being with Peter Neumeyer was just such an occasion.

- Malcolm Whyte ©mkw 2011



Floating Worlds : The Letters of Edward Gorey and Peter F. Neumeyer, new this Fall from Pomegranate, stitches together 256 pages of wit, critical commentary, and mutual admiration between the two authors. Floating Worlds ultimately provides a moving memoir of an extraordinary friendship. ISBN: 9780764959479. $35.oo

Peter F. Neumeyer (b. 1929), Ph.D., University of California, Berkeley (1963), is Professor Emeritus at San Diego State University, and has taught at Harvard, SUNY (Stony Brook), West Virginia University (Dept. Chairman), and briefly at University of Wales and University of Rhode Island. His early writings were on comparative subjects: Kafka, Thomas Mann, Swift, Shakespeare, John Clare, Thomas Hardy, and contemporary English literature, of Language and Composition, then onto Children's Literature. Neumeyer taught some of the first classes on children's literature in the country at SDSU, enabling the university to become one of the first to offer studies in Children's Literature as part of their English Department in the 1970s. The program is now The National Center for the Study of Children's Literature. Neumeyer's collaborations with Edward Gorey include Donald and the... (1969), Donald Has a Difficulty (1970), and Why We Have Day and Night (1970). Peter Neumeyer resides in the San Francisco Bay Area with his wife, Helen.

Malcolm Whyte is a veteran collector of original cartoon art and founder of the Cartoon Art Museum in San Francisco. As a book publisher he has spent more than 30 years working with graphic artists, has written several catalogs on cartoon art, and co-authored Great Comic Cats with veteran comic historian, Bill Blackbeard, The Underground Comix Family Album with Will Eisner, and Goreyography: A Divers Compendium (on Edward Gorey) with Henry Toledano. He lives in the San Francisco Bay Area with his wife, Karen and their miniature bull terrier, Panda. - Amazon.com.


Images from Floating Worlds: The Letters of Edward Gorey and Peter F. Neumeyer, Peter F. Neumeyer, ed., Pomegranate, 2011. Images © 2011 The Edward Gorey Charitable Trust. Courtesy of Pomegranate Communications, Inc. Text portions by Malcolm Whyte used by permission