A Review of
Peter F. Neumeyer's
Floating
Worlds:
The Letters of
Edward
Gorey &
Peter F.
Neumeyer

Floating Worlds: The Letters of Edward Gorey & Peter F. Neumeyer
is available directly from
Pomegranate
and
Amazon.com
Reviewed
Sept 25, 2011
by Glen Emil

25.ix.11 Special to Goreyography


The Other Statue, from Simon & Schuster, was just hitting store shelves. The Blue Aspic was also fresh on the market, from Meredith Press, popular for their Better Homes & Garden series. The Epiplectic Bicycle was due to be released in a year. Frances Steloff had just sold Gotham Book Mart to Andreas Brown a year earlier. The Vietnam War began losing its' battle in the public eye thanks in large part to a widely publicized photograph of a Viet Cong officer being executed at gunpoint, was taken that year. Martin Luther King, Jr. is gunned down. 2001: A Space Odyssey and The Planet of the Apes are released a day apart, while Mister Roger's Neighborhood and Laugh-In premiere their first episodes. Airport by Arthur Hailey is in its 12th week on the NY Times bestseller list. The Gashlycrumb Tinies is already five years old. Peter F. Neumeyer has just published Twentieth Century Interpretations of The Castle, a wide-angle lens collection of critical essays on Franz Kafka's last major novel, and was working on his first children's book. The first part of 1968 was a very busy time.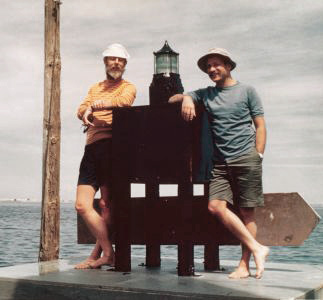 Gorey and Neumeyer, c. 1969, from Floating Worlds (Pomegranate, 2011)

Peter Neumeyer recalls his introduction to Edward 'Ted' Gorey, late in the summer of 1968:
"Harry (Stanton, Neumeyer's editor at Addison-Wesley), Ted (to his friends), and I went sailing off Barnstable, Mass., in Harry's boat. Ted and I sat stone silent, bow and stern, stumped for easy banter."

"Blessedly, time passed. Ted and I rowed the dinghy to the dock. As Ted held the rope and stepped up on the dock, the dinghy scooted out from under, leaving Ted a-straddle, one foot on shore, one on the dinghy, which skittered away, until Ted himself fell down between. I grabbed for his arm, hooked him somehow to the dock, and took off after the dinghy that was floating out on the tide."

"When I came ashore again, there was Ted, his left shoulder protruding out from his back like a bird's broken wing. Minutes later, in the waiting room of the Hyannis hospital, we sat to wait. And we sat. And sat, until finally Ted, looking startled, turned to me and whispered, 'I think it's popped back into place.' As, indeed, it had."

In the ensuing hours waiting in the hospital, for Gorey had to be officially examined and released, the two pored over the sketches for the first "Donald" book. By the end of the visit, the rowdy duo, by now drunk with a solidarity borne of the hospital's bureaucracies, embarked on an exploration and enchantment of each other's livelihoods, passions and dislikes. In simple terms, a friendship was born. Phone calls and letters between the two followed - lots of them.


"Although I stayed with Ted on the Cape, and he stayed with us in Medford (Mass.), we did a great deal of planning by way of long phone calls and the postal service, and there remain with me literally hundreds of pages of Ted's letters. I would always wait expectantly for these letters because most were enclosed in beautiful, Goreyesquely painted envelopes . . . Occasionally there would be a postcard - merely a piece of dental floss scotch-taped to the card, or an anchovy label or theatre stub. Heaven only knows what the mailman thought."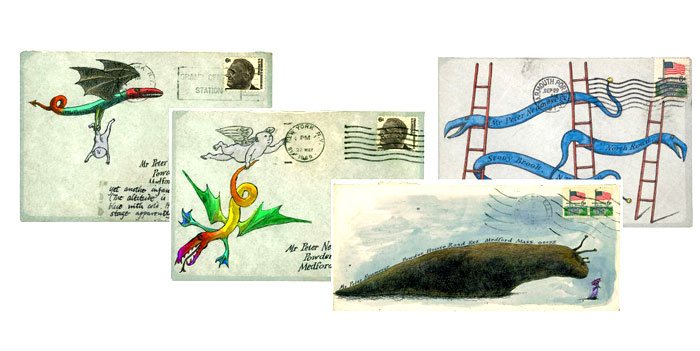 Selection of hand decorated envelopes from Floating Worlds (Pomegranate, 2011)


The Letters
Brevity and Edward Gorey go hand-in-hand. The typical Gorey book weighs in at under a thousand words. Gorey's successful The West Wing (1963), dedicated to Edmund Wilson, conveys not a word. So before first opening Floating Worlds, I was prepared for a bit of the same - short, neat and clever phraseologies and conceptual metaphors on art and writing. What I found instead - long, detailed, personal, wandering, purposeful, and very revealing letters between two men of craft - Gorey the artist, and Peter Neumeyer the author.

Both men are brilliant when discussing their respective Craft, are unintentionally quite funny, self-effacing, and dedicated to literature in a way that makes one wonder how they made time for anything else. This epistolary expedition was the first of its kind for either of them. Even Gorey is surprised at his own commitment to the letters. So why this sudden outburst? Gorey provides an explanation early on:


"...Unfortunately, I have been the world's worst letter-writer for the past twenty years, though you might not think it, which is partly accounted for because I am constantly writing them to people in my head and then the tedium of putting it all down badly on paper reduces me to paralysis in front of the typewriter." - [undated, circa Sept 24, 1968], p.33

Expansive but concise are Gorey's letters to Neumeyer, Neumeyer's letters to Gorey supportive, encouraging. But one could hardly believe how long one of Gorey's letters could be - some spanning days or even weeks. My time-space continuum at times left spinning by the proximity of one sentence to its predecessor and the light-years distance in subject matter. To get the full impact of what the two were up to, take a look at Floating Worlds' full and complete index. In fact, I suggest one peruse it first, as in preparation.

Most endearing - and enduring - is the 'birth and raising' of Donald. Donald and the… (1969), Donald Has a Difficulty (1970), Donald and the Umbrella (unpublished), Donald Makes a List (unpublished), Donald Helps (unpublished), et al. The list goes on. Sadly, the Donald books did not. But it's the condensation of a life-time of reading and reflection that is so remarkable - typed within a handful of months, as they started writing September 1968 and more or less ended in October 1969, where on 27.x.69 Gorey writes: 'I am in one of my more extreme Japanese phases, and have given up thinking, acting, and having opinions.'

Other Gorey excerpts short enough to quote:


"Wei Wu Wei [Terence Grey (1896-1985)] on Jesus: 'He seemed to understand sparrows, but not fish; and his callousness where fig-trees were concerned was total.' " - EG to PN, p.197

"I've spent several hours looking through children's books departments in a quest for an illustrator for you; oh dear. Competence everywhere, and no real quality or sense of illustration except literal renditions of the text. I came to the sad conclusion that except for Ardizzone or Sendak, I am about the best around. A sad commentary on the state of things if ever there was one." - EG to PN, p. 227

"If I sound like a pompous old foof, it's probably because I am." - EG to PN, p.168

So, I now know no better place to become acquainted with Gorey the artist, and it will be read often. Through his own hand, Gorey not just writes letters to a friend, he slowly reveals himself to a long-lost sibling, exchanges ideas as only soul mates can. Until Floating Worlds, one could only guess what Edward Gorey was made of. Thanks to Peter Neumeyer, we now have solid clues.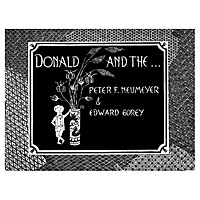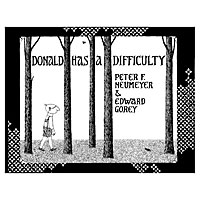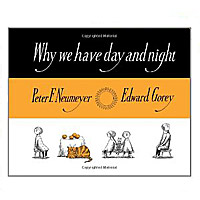 Floating Worlds : The Letters of Edward Gorey and Peter F. Neumeyer, new this Fall from Pomegranate, are those highly anticipated letters, in all their Goreyesquely painted, enveloped glory. Stitching together 256 pages of wit, critical commentary, and of mutual admiration, Floating Worlds ultimately provides a moving memoir of an extraordinary friendship. ISBN: 9780764959479. $35.oo

About the Author: Peter F. Neumeyer (b. 1929), Ph.D., University of California, Berkeley (1963), is Professor Emeritus at San Diego State University, and has taught at Harvard, SUNY (Stony Brook), West Virginia University (Dept. Chairman), and briefly at University of Wales and University of Rhode Island. His early writings were on comparative subjects: Kafka, Thomas Mann, Swift, Shakespeare, John Clare, Thomas Hardy, and contemporary English literature, of Language and Composition, then onto Children's Literature. Neumeyer taught some of the first classes on children's literature in the country at SDSU, enabling the university to become one of the first to offer studies in Children's Literature as part of their English Department in the 1970s. The program is now The National Center for the Study of Children's Literature. Neumeyer's collaborations with Edward Gorey include Donald and the... (1969), Donald Has a Difficulty (1970), and Why We Have Day and Night (1970). Excerpts by Neumeyer are from his afterwards published in the 2004 editions of Donald and the… and Donald Has a Difficulty from Abrams. Neumeyer resides in the San Francisco Bay Area.


-- Glen Emil, Goreyography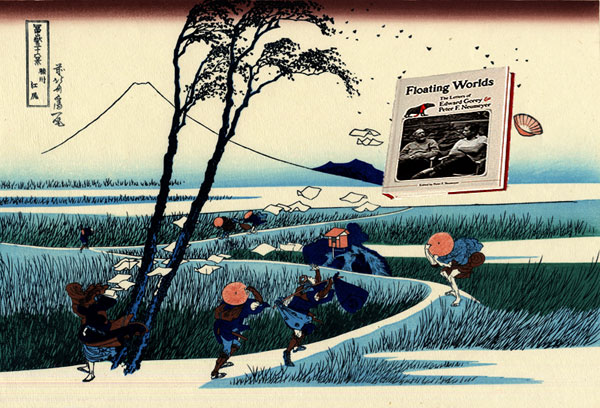 Images from Floating Worlds: The Letters of Edward Gorey and Peter F. Neumeyer, Peter F. Neumeyer, ed., Pomegranate, 2011. Images © 2011 The Edward Gorey Charitable Trust. Courtesy of Pomegranate Communications, Inc. Excerpts from the Afterwards from "Donald and the..." and "Donald Has a Difficulty" are copyright ©2004 Harry N. Abrams

Many thanks to Stephanie King of Pomegranate Communicatons, Harry N. Abrams, and to Andreas Brown of the Edward Gorey Charitable Trust for their generous assistance. For an idea of what the title Floating Worlds refers to, take a look at Pomegranate's selection of ukiyo-e publications, or Japanese woodblock prints of the floating world.