And now,
Goreyography Reviews
something completely different, from Pomegranate

The
Adventures
of Gremlin
by
DuPre Jones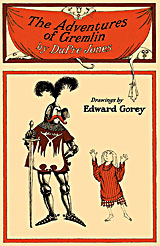 The Adventures of Gremlin
ISBN 978-0-7649-6605-7
available from Pomegranate
, or from
Amazon.com
Reviewed
Sept 20, 2013
by Glen Emil

Sept 20, 2013 Special to Goreyography




Gremlin was a spunky little girl. Zeppelin, her brother, was assaulted by a large bear, at least once. Who better to illustrate DuPre Jones's comedic rewrite of Hansel & Gretel than Edward Gorey? Mr. Jones's debut book The Adventures of Gremlin, reintroduced this Fall by Pomegranate, is a tightly written tale with characters so vividly familiar, that those acquainted with Gorey's work might think 'Gremlin' was written with Gorey's cast of 'usual suspects' in mind. It's wonderfully cheeky; wry, and irreverent. Perhaps still a tad sophisticated for the nanny crowd, 'Gremlin' reads well for young adults looking for something clever, and could easily play well on today's comic stage.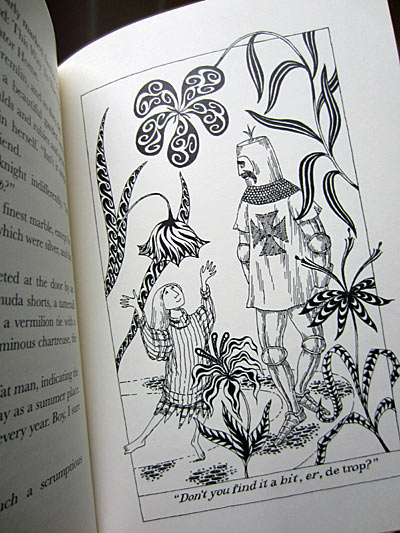 The Adventures of Gremlin is the only work of fiction published by DuPre Jones (1937-2012). Mr. Jones had respectable, if not straight-laced day jobs as film critic for Sight and Sound, Film Quarterly, and The Washington Post. It was while at the Post that he was asked to compile a definitive list of 'The 10 Best Movies' from 1933 to 2011. He was a librarian for the Washington bureau of The New York Times, as well as The Washington Post. He helped create a reference library for The National Journal, and was an editor for Congressional Quarterly. In short, DuPre Jones was a man who knew his way around town.

Gorey's fans come to savor the unexpected, even expect it. In The Adventures of Gremlin, Mr. Jones delivers quite a bit of it, while Gorey's pen and ink breathes life into the pages. DuPre's nods to the modern and off-beat aren't passed up, and Gorey obliges the reader with some very choice and charming irregularities. Edward Gorey's artistic style is at a peak. Originally written and illustrated in 1966, 'Gremlin' plunges in and out of present-day sensibilities of the day, while managing to stay faithful to the fairy tale genre. There are thirty illustrations, and many are full-page works. Gorey must have enjoyed this particular book, his illustrations capture the inventiveness and flamboyance of the story to a tee.

There is true imagination at work here in 'Gremlin', and a worthwhile collaboration. Long out-of-print, DuPre Jones and Edward Gorey's The Adventures of Gremlin is thoroughly enjoyable. Released by Pomegranate in the Fall of 2013.
Images from Pomegranate and Goreyography