16 BY 12,
WITHOUT
MAT
A Review
of
Pomegranate's new
Edward Gorey

The New
Poster Book


Like its forerunner, this book is designed to be disassembled, mounted, and framed. All you need is the nerve.

A 16 x 12 inch frame works, but a 20 x 16 frame with mat would look great.


Visit the Gorey Store @ Pomegranate



Fall 2009 Catalog in PDF


Pomegranate Communications, Inc.
775A Southpoint Blvd
Petaluma, CA 94954

800 227-1428
707 782-9810 FAX



Would I have the heart to take a knife to a new copy? Probably not...unless someone asked me to decorate their halls in Gorey.


Photographs by Glen Emil
©2009 Goreyography





03 Sept 2009 Special to Goreyography

F or some reason, one of the most detailed memories I can reliably recall, is of someone opening a box of books in a stockroom at Tower Books, which was next to the Tower Records store [now defunct, sadly] in San Mateo, California. This must have been in 1985. The precise bit of memory is the sight of emerging book covers, first of Dracula: A Toy Theatre and then, Gorey Posters.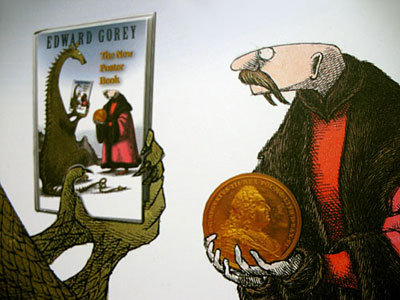 Detail from the cover of The New Poster Book


Already a Gorey collector of five or six years, I already had these in my collection. But to see a half dozen of each pop out of a box was totally unexpected, and an odd sight. Both were published in 1979 and already considered hard-to-find, but these were coming in as remainders, and cheap. Two or three other young Tower employees, also Gorey collectors, 'wowww-dd' and 'ahhhh-dd' their way over. It was the first, and last, time collectable Gorey books popped up like that. It was like finding a pot of forgotten gold in our backyard.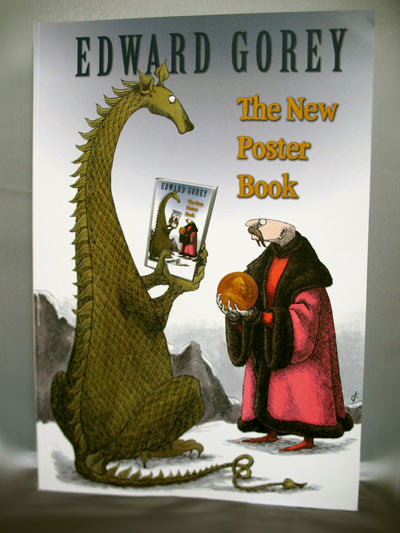 Cover illustration in authentic chromatic splendor. The original


is also on view in the touring exhibition Elegant Enigmas


Nearly 25 years later, I am recalling it all perfectly as I flip through The New Poster Book [Pomegranate, San Francisco 2009]. What a treat! Once again I find something pleasantly unexpected. While the original Gorey Posters[Abrams, 1979] sports a festive cover, once inside, it was strictly a black and white affair. The New Poster Book likewise greets in vivid technicolor-Gorey, but keeps the chroma coming - eighteen times out of the thirty 'posters' in all. The antique sepia tone palette and demonstrative details in 'Frawgge Mfrg Co' beckons like an old family album, The Galoshes of Remorse wonderfully moody. Les Insectes Cyclistes from The Broken Spoke mischievous and otherworldly.

Interestingly, not all of these eighteen were colored by Gorey's hand. Some are posthumously 'decorated', possibly kicking off future debate over such practices. But I have to admit I enjoyed the 'new rendition' of The Dong with the Luminous Nose illustration, feeling that it captured Gorey's aesthetic amazingly well. Otherwise, it's fairly easy to detect Gorey's own watercolor brush work, and the updated works did not prove distracting in the end. They co-exist.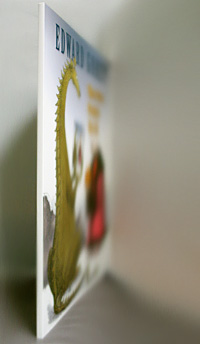 Easy to spot on a shelf, it's the


only book spine sans mots


I recommend The New Poster Book highly, for it offers something new. As we approach the 10th anniversary of Gorey's passing, we can find new ways to enjoy Gorey's boundless and playful imagination. Engaging this large, 15-inch tall folio magnifies the joy of Gorey's compositions, and in doing so, memories of his work become more complete, enhanced with detail.

Friends and family beware, it's been a while since I've handed out Gorey for Christmas.



-- Glen Emil, Goreyography




Special thanks to Stephanie King of Pomegranate and Andreas Brown for their kind assistance.





©2009 Goreyography+WZP. All rights reserved.