Goreyography
Reviews

The
Tunnel
Calamity

by
Edward Gorey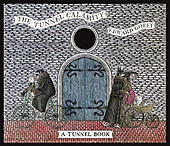 The Tunnel Calamity
by Edward Gorey
Hardboards in illustrated box case
Size (with box): 7⅜ x 6⅜ x ⅞ in
ISBN 978-0-7649-7011-5
$24.95
Available from
Pomegranate
and The Edward Gorey House store
Reviewed
February 25, 2015
by Glen Emil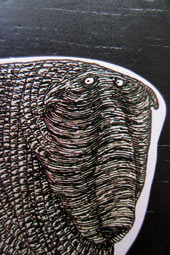 February 25, 2015 Special to Goreyography




There is a beginning, and an end, between which lay eight frames, eight chapters. No text, no narrative, yet each chapter or frame conveys a story, adjoining figures linked by a visual, prose-free continuity. There is suspense, wonder, intrigue and deception. It's a mystery. Try to discern Gorey's plotline or construct your own. What was on the plaque before it was surreptitously switched? Does the dancing statuary forestall doom or deception? Why does ULUUS have such a Big Nose?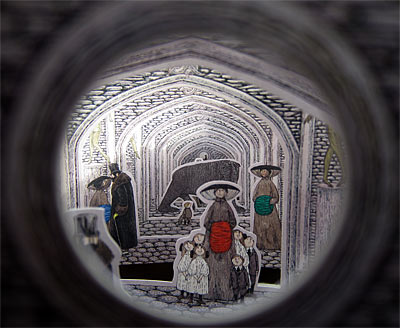 Whispers and echoes in this Gorey Victorian-era tunnel under London


The Tunnel Calamity is an adventuresome mirage, begging to be bent, twisted, squished and stretched, all to catch illusive detail. Thankfully, Pomegranate provides this new edition with a very nice box, to give it a safe resting space after a long and tortured examination. First published in 1984, the original Tunnel Calamity was an absolute delight when it graced Tower Books' shelves. They sold quickly, yet customers continued to inquire about TTC long after it went out of print.

Thirty years later, The Tunnel Calamity returns, and its reappearance spurs an investigation into the history of the tunnel book. It turns out that the book that Gorey built was based on 'peepshow' books designed to showcase the Thames Tunnel, the world's first subaquatic tunnel, constructed in London between 1825 and 1843. British, French and German publishers quickly capitalized on its popularity by dramatizing this latest engineering marvel in 3D paper. The Thames Tunnel was the first of many such projects, and the resulting genre of playful yet informative peepshow books became known as 'tunnel books', with or without much calamity.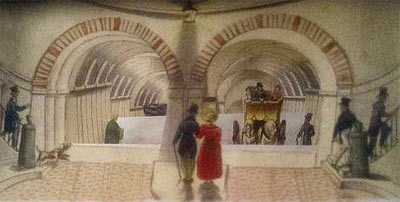 A 5-panel Thames Tunnel peepshow book from Paris, circa 1843



This edition of The Tunnel Calamity is well-designed, with few minor changes, and benefits from an attractive box. In fact, maybe Pomegranate can be persuaded to sell the box alone, to preserve all the first editions still gracing home libraries.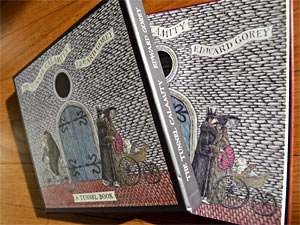 Available from Pomegranate and the Edward Gorey House Store.


Images from Pomegranate and Goreyography