Goreyography is here to help. Use our Illustrated Bibliography to help spot the real McCoy. First and limited editions of the primary or A-list (in collectors' parlance) titles are only a click away with a Serious Collector Link on every page. Visit Goreyography's Gift Shop if you're looking for cards, calendars, posters, mugs or other licensed souvenirs bearing Gorey.

If you want help looking for a specific item, email us at
looking4@goreyography.com.

Pomegranate's Books
Pomegranate is practically The Edward Gorey publishing house. Nearly 30 titles, including originals like Floating Worlds, Elephant House and Elegant Enigmas, and we won't even start to count all their calendars, cards and bookmarks!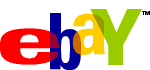 The ubiquitous eBay.
Check here for an up-to-the-minute search in the US of Gorey books and ephemera awaiting the hammer on eBay. It's fun. It's energizing. It's addictive. Buyers: Beware. Edition and condition claims should be taken with a grain of salt, so ask detailed questions before bidding. Consult our bibliography. On the brighter side, signed books, original art, etchings, or lithographs do appear, so regular visits are a must. Sellers: Find the true market value for that Gorey book your aunt gave you years ago. Great for selling scarce items as they tend to go for a premium.