news
San Francisco's Cartoon Art Museum hosts Edward Gorey's Eerie Art, an exhibit of original art and seriographs. It runs thru
Feb 12.

Swann Galleries's
Dec 15th sale was a success, again demonstrating an increased interest in Gorey's art. Swann has this to say about Gorey artwork.

Ashcroft & Moore held their 5th and Last Gorey sale in a series of Gotham Book Mart auctions last Nov. A & M's Gorey Gotham No.4 this last Feb 2022, their third, second, and initial sales provided many surprising behind-the-scenes glimpses.



Recommended Books
We review Malcolm Whyte's new book, Gorey Secrets

Born to Be Posthumous
by Mark Dery, continues to feed speculation about the world Gorey illustrated. From The Comic Journal to the venerable The NY Times Dery's book can help us grasp Gorey's broad appeal. Read our review and interview with Mr. Dery on writing his singular biography.


What's Your Favorite Gorey Cover?
A worthy question, and in aid of a worthy answer, Pomegranate offers Edward Gorey: His Book Cover Art & Design. Visit Amazon or peek at Pomegranate's sample pages, or read our review.


It's Still a Floating World This epistolary sojourn continues to inform and surprise. Read reviews for Floating Worlds by the Atlantic Monthly and in The Wall Street Journal by Karen Wilkin. Read our review of Floating Worlds




NPR's Gashlycrumb Tinies:
Music to the Ears
NPR's All Things Considered co-hosts Linda Wertheimer and Noah Adams lovingly recite The Gashlycrumb Tinies from NPR's Edward Gorey obituary page on April 17,2000. A nice interview with Andreas Brown included, in Real Media format.
See what else NPR Radio produced about Edward Gorey.






PBS & WGBH presents Mystery! The official PBS Mystery! site [now archived], with a 1996 Gorey interview by Ron Miller. Derek Lamb writes about Gorey's collaboration for the legendary Mystery! animations. And finally a tribute by Animation World magazine to Derek Lamb [1936-2005] which mentions the animation collaboration.

Before you go, watch a segment of WGBH's The Rewind about the Gorey animations for Mystery on YouTube.


Hamanaka-San, Arigato
Housing the largest Gorey collection in Japan, the two Wonderful World of Edward Gorey websites are the creations of Toshinobu Hamanaka. The book by the same name, edited by Mr. Hamanaka, and published by Kawade Shobo in 2002, is a beautiful volume. In Japanese.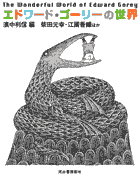 Read more on Edward Gorey in Japan in our East Wing


What the Doubtful Guest does on stage is everybodys business in Hoipolloi & Theatre Royal Plymouth's production, which ran March 13 thru April 12, 2008. From London, the company toured Liverpool, Ipswitch, then Newcastle. The show was met with enthusiasm from both The Times and The Guardian -- "...a piece of visual theatre that captures all the Victorian pastiche, fantastical imagination and ominous air of Gorey's original." - Lyn Gardner, The Guardian.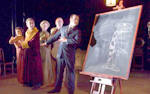 Hoipolloi Artistic Director Shôn Dale-Jones discovered 'Doubtful' while touring the US in 2005. "I went into a children's bookstore to look for one of Edward Lear's titles, but couldn't find one. The clerk asked if he was the guy Edward Gorey did some illustrations for. She handed me a collection of Gorey's books – including Lear's The Jumblies. Before I knew it I had looked through the whole book and was asking the shop attendant for more Edward Gorey...by the time I left the USA later that month I'd bought every title I could find in every bookstore I walked into. On the plane journey home I kept returning to The Doubtful Guest and got hooked on the world of this illustrated story."

Visit Hoipolloi's blog for some snapshots of this memorable production.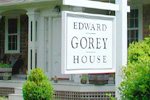 The Edward Gorey House
Gorey's residence in Yarmouth Port is now a museum. It's mission: "The Edward Gorey House celebrates and preserves the life and works of Edward Gorey...[and] honors Gorey's passion and concern for animals, raising awareness about local and national animal welfare issues." Gorey's favorite yellow sweater, greatcoat and tennies are on view as well.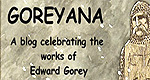 Minneapolis's own Irwin Terry hosts the Goreyana blog, diligently posting interesting Gorey artwork from his collection, with excellent photos. Talk amongst yourselves!






Antiquariat Bucherwelten provides unparalled access to translated editions, brought to you by Jonas Ploger. Located in Germany. In English and German.







Gorey Serif Font
TrueType font based on the distinctive hand lettering from many of Gorey's books. From Damian Hess, it's quite a delicious, no-cost treat.



OgdredWeary by nonDairy Fonts. Complete your collection of Edward Gorey fonts with another no-cost TrueType or MacFont font, inspired by Gorey's The Curious Sofa.








Funeral Consumers Alliance
"First you're born, you live a little, and then you die..." To that end, the FCA is here to help, with Gorey's Osbick Bird gracing a handy end-of-life planning kit. Available in spiral bound or PDF download by state. Embrace the inevitable.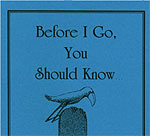 Edward Gorey Bibliography
A comprehensive bibliography of Gorey's works.


ELEPHANT HOUSE: or, The Home of Edward Gorey
Photographs and text by Kevin McDermott, sheds new light on Mr. Gorey through his residence, now museum, (a.k.a. 'The Elephant House') in Yarmouth Port. Fifteen etchings and lithos are reproduced. Introduction by John Updike. Published by Pomegranate, Elephant House is in it's 2nd printing.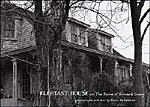 Goreyography talks to Kevin about the making of Elephant House. Finally, read our review of Elephant House.

Visit McDermott's Lost Gotham, an evocative journey back to both the Gotham Book Marts before it finally closed in 2006.







Gorey Documentary Coming!
Five years in the shooting, film maker Christopher Seufert of Mooncusser Productions has produced several award-winning films, and with Kickstarter funding, is working to complete his most challenging project. Visit Seufert's Facebook page to read the latest updates about this most fascinating project.







A voyeuristic view of Gorey's studio as it stood in Yarmouth Port before it was tidied up after his death in 2000. Viewer plugin required and may take some time to load. Worth the wait.

Drawn to Illustration
The venerable Society of Illustrators in NYC recognizes Edward Gorey for his 'distinguished achievements in the art of illustration' as an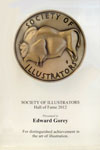 inductee into its 2012 Hall of Fame, joining the likes of N.C. Wyeth (1974), Ludwig Bemelmens (2012), Maxfield Parrish and Howard Pyle (1975), and Charles Schulz (2013).


Doubtful Guest film 'In development hell'
The original treatment: &quotA charming mischievous creature shows up at a family-owned bed &amp breakfast, and turns the funny family's life upside down.&quot The concept, first announced 2007 by Jim Hensen Company, will hopefully make it to the projection room. It's a lovely idea, after all.


See how Siobhan Magnus, is always an EGH star! Paint it Black Siobhan!