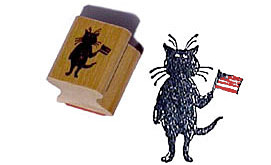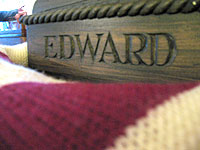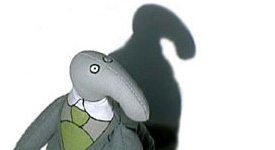 News & Events
The virtual auction from Ashcroft & Moore's Great Gotham Gorey Auction on April 1st was both amazing and unpredicatable.

Explore Gorey's The Angel, the Automobilist, and Eighteen Others with us, as we examine what may be behind Gorey's earliest 'book'.

Andreas Brown, Gorey's tireless champion and former owner of the Gotham Book Mart, passed away on March 6, 2020. He was 86. Brown had been confered with an honorary Doctorate from California State University for his contribution to the arts. Read his obituary in The NY Times.

The Edward Gorey Charitable Trust is now on Instagram. The organization which owns the copyright of nearly all of Edward Gorey's art work is currently cataloging and creating a digital archive of the enormous repository.

Born to Be Posthumous
Mark Dery's biographical exploration received widespread attention last year, including The NY Times and The Washington Post, The Telegraph (UK), the BBC and NPR, and people are still talking about it. If you haven't already, read our little review.

We ask Mark Dery a few questions about writing Born to be Posthumous.


Christopher Seufert's Edward Gorey documentary is nearly there! Visit the Edward Gorey film project's Facebook page for details.




But I Thought It Was a First Edition
To help separate the wheat from the reprints, peruse the illustrated bibliography of Gorey's primary works. View alphabetically or chronologically.






Desperately Seeking Gorey
Look for the Serious Collectors link in our illustrated bibliography pages. Makes finding scarcities a tad too easy.

One-click searching for eBay, Abebooks, and Amazon!


Give the Gift of Gorey
Who sells all those bat tees, posters, lunch boxes, sterling silver Doubtful Guest pins, calendars, and of course - books? Find out at the Edward Gorey Marketplace. Open 24/7.


Goreyography Reviews
Recent books:
..The Angel, the Automobilist, and Eighteen Others
..Born to Be Posthumous
..Gorey's Worlds catalog
..Nelsen's Sam and Emma
..His Cover Art & Design

Recent events:
..EGH Envelope exhibit in 2012
..Elegant Enigmas tours America
..Edward Gorey House in 2010

Guest interviews:
..Mark Dery talks about 'Born to be Posthumous'
..Peter Neumeyer at the Cartoon Art Museum
..John Carollo on 'Musings' exhibit


The Backroom:
Original Gorey Art!
It's where the special goods are kept. Now, booksellers are bringing original Gorey art out to the electronic frontier. Come in, and take a look.


Those Paperback Covers!
Since 1953, Gorey designed and illustrated dozens of mass market paperback covers. See over 60 covers on exhibit.



The Play's the Thing
Seen by few, Gorey's theatrical productions live on in the art he used to promote them. Works commissioned for other theatrical productions on view as well.